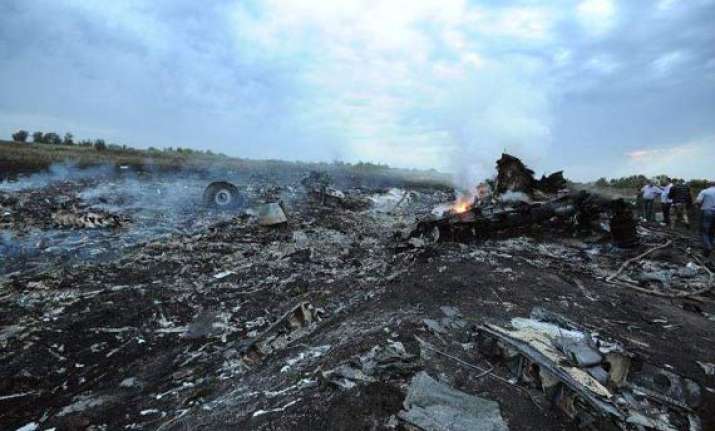 Hrabove, Ukraine: The chaotic Malaysia Airlines Flight 17 recovery effort stumbled again on Monday, with more bodies found at the sprawling crash site but a worrisome power outage in the refrigerated train holding over 200 of the dead.
The shambolic attempts to investigate by the pro-Russia separatists who control the verdant farmland where pieces of the plane crashed to Earth have fanned widespread international outrage, especially from the nations whose citizens were on the doomed plane. Four days after the jetliner was shot out of the sky, international investigators still had only limited access to the crash site in eastern Ukraine.
Emergency workers piled 21 more black body bags from the blackened crash site by the side of the road on Monday in Hrabove. That brought the total found to 272 of the 298 passengers and crew killed in the tragedy, according Prime Minister Arseniy Yatsenyuk.
The bodies were being sent to the refrigerated railcars in the nearby town of Torez, where the other bodies are being kept. But a train engineer told The Associated Press that the cars' refrigeration had been off overnight and it was not immediately clear why. The cooling system was back up and running early on Monday, he said.
The smell of decomposing bodies was much more pronounced on Monday at the Torez train station than a day earlier, when 196 bodies were put into the train cars. Four rebels armed with automatic weapons were standing guard around the cars.
Ukrainian officials say the plane was shot down by a mobile missile battery from a rebel-controlled area in eastern Ukraine. They said the BUK rocket launcher was supplied from Russia and operated by Russian personnel.
The United States presented what it called "powerful" evidence on Sunday that the rebels shot down the Boeing 777 with a Russian surface-to-air missile. That evidence included video of a rocket launcher, one surface-to-air missile missing, leaving the likely launch site; imagery showing the firing; phone calls claiming credit for the strike and phone recordings said to reveal a cover-up at the crash site.
"A buildup of extraordinary circumstantial evidence ... it's powerful here," said US Secretary of State John Kerry.
"Russia is supporting these separatists. Russia is arming these separatists. Russia is training these separatists," he added.
Fighting flared again on Monday between the separatists and government troops in the eastern rebel-held city of Donetsk. City authorities said battles were taking place near the town's airport and warned residents to stay inside. An AP reporter heard several explosions and saw smoke rising from the direction of the airport.
Pressure has been growing on Russian President Vladimir Putin, who the US and others say has backed and armed the rebels, to rein in the insurgents in Ukraine and allow a full-scale investigation. Russia has denied backing the separatists.
Putin lashed out against those criticisms again Monday, accusing others of exploiting the downing of the plane for "mercenary objectives."