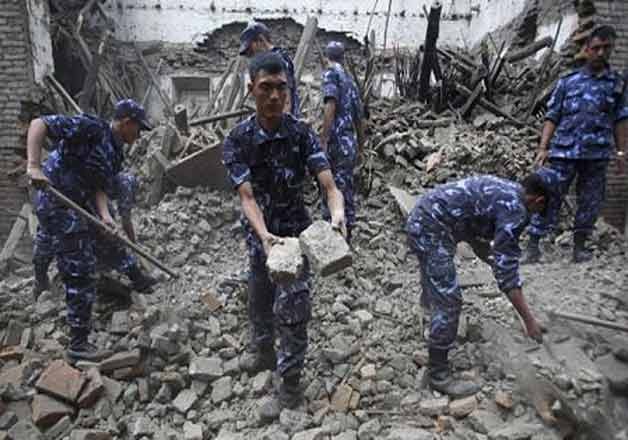 Singati (Nepal): The bodies of many of those buried in the rubble at Singati Bazar in Nepal's Dolakha district -- among the worst-affected in the devastating earthquake of April 25 and the May 12 temblor -- are yet to be retrieved as recovery parties battle the elements to complete their task.

Locals said over 100 bodies were lying buried under the debris of fallen houses at Singati. Landslides continued to hit the area after the quake, making recovery of bodies difficult.

Rescue and relief efforts at Singati have been tough as it is witnessing continuous mudslides after the earthquake, said Nepal Army's Major Rajan Dahal of Charikot-based Barda Bahadur Battalion. So far, only 33 bodies have been retrieved from under the rubble.

A massive landslide triggered by the May 12 powerful aftershock has buried the Singati bus park as well, said local resident Padmaraj Pathak. After the landslide, the search operations were halted.

Later, it was resumed on Wednesday when some American experts arrived in the small town. On Friday, 29 bodies were recovered from Singati area, with American rescue expert Brian Smith working closely with the Nepali rescue teams to retrieve more bodies.

Unable to retrieve bodies that still lie under debris brought down by landslips, the team has cleared the debris and repaired a two-km track from Singati to Laduk Bulung to resume vehicular movement from Friday.

Over 200 survivors of the April 25 major quake were at Singati to buy tents and other relief materials on May 12 when they were caught in the powerful aftershock. But, it is still unknown whether they managed to escape the landslide, Pathak said.

Singati, situated about 40 km from the district headquarter town of Charikot, was the major market for residents of 21 VDCs in the northern part of the district. Now, most of infrastructure here has been damaged. Transport facilities to the area have been disrupted with the road having developed massive cracks.

The scene of continuous landslide up from the Maldung cliff of Laduk VDC has created horror among the survivors near Singati. There is no safe place even for landing a helicopter with relief assistance. The Nepal Army is dropping off its soldiers from the air to work on excavating the buried bodies. Three bodies were retrieved from the Bhorle cliff on Friday.

Meanwhile, officials said 17 human settlements in Dolakha desperately needed to be shifted to safer locations due to the risk of landslides. Lapilang, Lamidanda, Babare, Kalinchowk, Khopachangu, Bigu, Alampu, Chilankha, Bulung, Orang, Lama Bagar, Gaurishankar, Khare, Changkhu, Marbu, Suri and Jhyanu VDCs are the vulnerable zones because of the landslides.