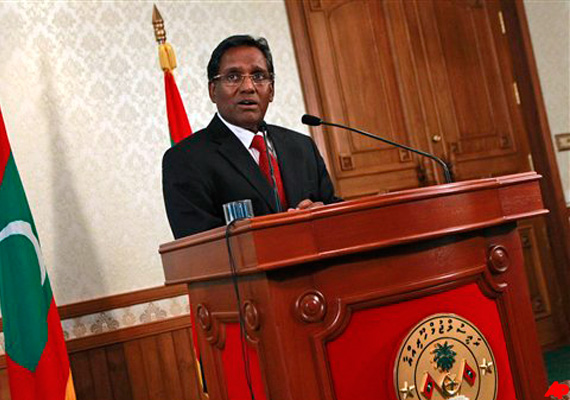 Male, Febr 12: Maldives' new President on Sunday inducted seven members into his expanded cabinet, including the country's first woman Attorney General, as he tries to entrench himself as head of a 'unity government' in the face of his predecessor's refusal to accept his legitimacy. 

The new Ministers in President Mohamed Waheed Hassan's Cabinet were drawn from different political parties.

Among the Cabinet Ministers is Azima Shakoor, the Attorney General of Maldives, who is the lone woman to get a Ministerial berth.

Mr. Hassan also inducted into his government Mohamed Husain Sharif Mundu, the spokesperson of former dictator Maumoon Abdul Gayoom's Progressive Party of Maldives (PPM).

While Mr. Mundu was given Youth Affairs and Sports portfolio, other members were Ahmed Jamshed (Health and Family), Ahmed Mohamed (Economic Development), and Ahmed Shamshed (Transport and Communication).

Mr. Ahmed Adheeb was appointed the Minister for Tourism and Mr. Asim Ahmed was appointed the Minister of Education.

The appointments came a day after U.S. Assistant Secretary of State for South and Central Asia Robert Blake met both the President and the former president Mohamed Nasheed, and backed the government's proposal of a national unity government.

However, Mr. Nasheed who has not accepted the legitimacy of Mr. Hassan's government, refused to back down from his demand for a fresh election and snubbed U.S. calls for a compromise.

He led yet another major rally last night in capital Male and reiterated his stand that the country needs a snap election to determine the genuine wishes of the people.

"We want an election and we will campaign for it," Mr. Nasheed told a large gathering of his supporters on Saturday night.

Mr. Nasheed also repeated his accusation that the police and military were detaining supporters of his Maldivian Democratic Party and called for an independent investigation into what he insists was a coup.

Mr. Blake yesterday refused to back Mr. Nasheed's demand, saying it was not the right time for elections. But he too acknowledged alleged human rights violations by the army.

Mr. Nasheed was today scheduled to make a day-long visit to his power centre Addu city where his party supporters have blamed police and military of launching a violent crackdown.

However, his visit was postponed due to unspecified reasons.

Addu city is the one of the major strongholds of the Maldivian Democratic Party of Nasheed, and was the only city besides Male that witnessed violence following his ouster.

"The departure has been postponed," the party sources said saying further details will be given later on.

Mr. Nasheed was also scheduled to meet a slew of foreign diplomats who have rushed in to defuse the crisis in the tourist paradise.

He also held parleys with a number of foreign envoys yesterday, including G. Ganapathi, Secretary (West) in the Ministry of External Affairs.

While speaking to PTI on Saturday, Mr. Nasheed had said he was disappointed with India over its response to the political turmoil without having properly understood the ground situation in his country.

Maldives new President Mr. Hassan was sworn in on Tuesday night, after Mr. Nasheed's resignation. Soon after taking over as President, Mr. Hassan had made urgent appointments of retired Colonel Mohamed Nazim as the Defence Minister and lawyer Mohamed Jameel Ahmed as the Home Minister while giving himself some time to cobble up a national unity cabinet.

Mr. Hassan, whose first few days in office have been quite tumultuous, had called for chaos on the streets to stop and for restoration of peace and calm.