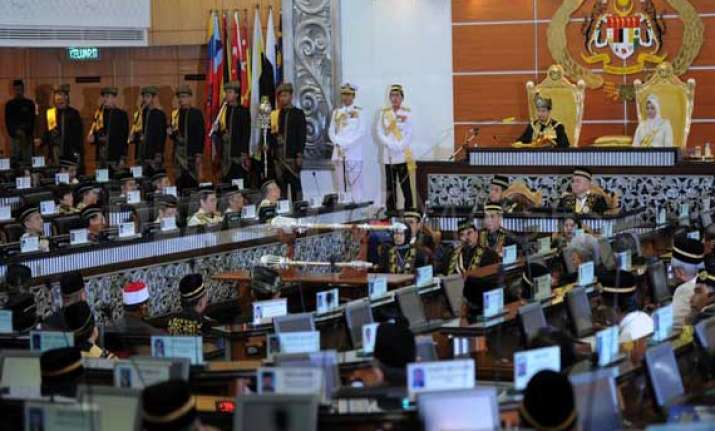 Kuala Lumpur: Malaysian lawmakers approved changes to a crime-prevention law early Thursday that opponents fear could be abused by authorities to hold people without trial for years and negate the prime minister's pledge to protect human rights.
Opposition leaders and international rights activists have criticised Prime Minister Najib Razak's administration for introducing the changes less than two years after abolishing laws that had occasionally been used in past decades to hold political dissenters without charge.
Mr. Najib has defended the amendments as necessary to combat organised crime. He assured Malaysians that "no one will be victimised" and that authorities would follow a clear procedure and not use the law for political purposes.
Legislators in Parliament's lower house passed the changes to the Prevention of Crime Act early Thursday after a heated debate. The changes must be endorsed by Parliament's upper house and the country's constitutional monarch before they can take effect, but they are unlikely to encounter resistance at those stages.
The changes would allow a panel comprising at least one former senior judge to issue two-year detention orders that can be subsequently renewed against suspects deemed to have committed serious criminal offenses.
Mr. Najib has rejected criticism that the changes give the government powers similar to the Internal Security Act, a decades-old law that has been repealed but once allowed the Home Ministry to detain suspects indefinitely without charge. That act had mainly been invoked against militant suspects in the past decade, but political opposition members have also been held for allegedly threatening national security.
"Malaysia is taking a huge step (backward) on rights by returning to administrative detention practices much like the draconian Internal Security Act," Phil Robertson, deputy Asia director at Human Rights Watch, said in a statement Thursday.
"By doing so, Prime Minister Najib is backing methods that do little to curtail crime but threaten everyone's liberty," Mr. Robertson said.
Lim Kit Siang, a top opposition member of Parliament who has previously been held for months on separate occasions under the Internal Security Act, said the approval of the amendments marked "a black day for Malaysia."
Mr. Najib earlier this week said the changes were crucial to tackle an increase in organized crime, insisting that crime "has frightened the public and if the government doesn't act, more people will become victims." Malaysians have been concerned in recent months over robberies and high-profile public shootings of targets including businessmen.