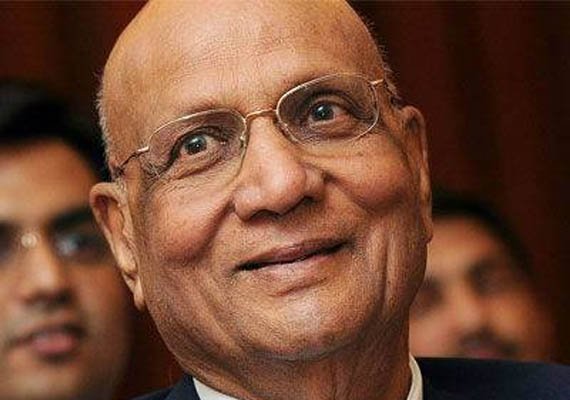 London: NRI industrialist Lord Swaraj Paul told Britain that it should end a stream of ungenerous and often ill-informed advice that is directed to India on matters including human rights, corruption and Kashmir and take steps to reverse the slow decline affecting the bilateral ties.  
Participating in a debate in the House of Lords last evening on the assessment of British Government of the outcome of the general election in India, Paul said, "after a lifetime linked to both societies, I am deeply conscious that the things that unite us are far greater than the things which divide us.
"That is why...I am concerned about and share the disquiet that so many Indians feel about the stream of ungenerous and often ill-informed advice that is directed from this country to India - generally offering unsolicited counsel on how India should conduct its democracy and manage its affairs."
Citing a few instances, Paul, the Chairman of the Caparo Group of industries, noted that the "ungenerous and often ill-informed advice" directed to India pertained to issues of human rights, corruption and on Kashmir.  
"There are cases of (human rights) abuse in India but they are invariably investigated through independent judicial enquiries and the outcomes are inevitably taken very seriously. Ill-founded allegations are made over and over again suggesting Indian indifference to these situations," he said.
On corruption, he said, "there are serious issues but the Narendra Modi government has addressed this with an unprecedented vigour and seems to be making progress on this hugely complex problem.
A problem that Your Lordships well know is not confined to India. Even Britain is not exempt.  Little, if any, credit is given to the determined efforts now underway to correct this situation."
On Kashmir, Paul noted "there is a cascade of intrusive comment, instruction and advice. India is in constant discussion with Pakistan and has made it clear that Kashmir is an integral part of India."
He also noted that it was a "very special year" for India which saw over 800 million voters register their vote.  "A new leader, and we must congratulate Mr Narendra Modi, was able to secure a one-party majority and a stable government after many years minority or coalition rule.
In these days of political turmoil, times when democracy often seems so unstable and fragile, this bodes well for the future of India," he said.
"Most Indians, irrespective of whether or not they support Mr Modi, were profoundly upset when some governments refused, or were reluctant, to issue him with a visa a few years ago.
"The issue was sectarian riots in the state of Gujarat and very sad loss of life on both sides. However, twice thereafter Modi was democratically re-elected as the Chief Minister of that state and the Supreme Court cleared him of any blame," Paul said.
He said he was sorry to see the "slow decline" that has affected the Indo-British relationship over the last decade.  "When I ended my five year term as co-chair of the UK-India Round Table in 2005, relations between the two countries were about the best they had ever been," he said, adding that "I am not claiming any personal credit for that but I think now is the time to re-establish those links and welcome honest dialogue between us."
Raising the issue of erecting a statue of Mahatma Gandhi in Parliament Square here, Paul said, "initially the Indian people were delighted by this generous gesture but I am afraid a degree of doubt has crept in because the funds are going to be raised by public subscription."
He noted the then British Foreign Secretary William Hague and Chancellor of the Exchequer George Osborne during their visit to India in July had announced with great fanfare that a statue of Mahatma Gandhi would be erected in Parliament Square as a sign of the concord between the two nations.  
"The Chancellor himself has said that the British economy is in great shape so I find it rather surprising that Her Majesty's Government is unable to fund this modest project," Paul said.
The debate was initiated by Lord Navnit Dholakia, Deputy Leader of Liberal Democrats in the House of Lords.  "This debate is timely. The election of Narendra Modi and the BJP majority Government is a unique opportunity for the United Kingdom to reinvigorate momentum in its relationship with India.
"We were right to re-engage with Narendra Modi in 2012 after the 10 years of diplomatic isolation of the Gujarat Government where he was the Chief Minister," he said.  The debate coincided with the festival of Diwali, a fact that was also raised in the House as a metaphor of goodwill between the two countries.