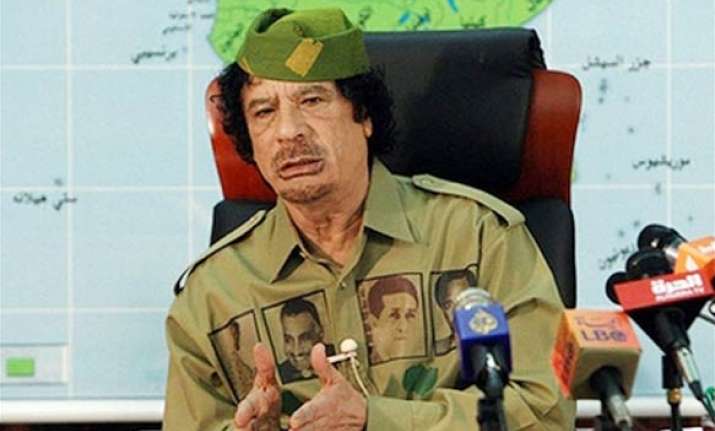 Tripoli, Feb 21: Angry Libyan protesters attacked the state broadcaster and set government buildings ablaze today as the son of leader Moamer Kadhafi warned the country faces civil war and "rivers of blood".
With gunfire crackling in the streets of Tripoli, and Human Rights Watch putting the death toll at 233 since Thursday, Saif al-Islam Kadhafi vaguely promised reforms as he condemned the revolt as a foreign plot.
The elder and famously mercurial Kadhafi, 68, the longest-serving leader in the Arab world, remained out of sight as a human rights group said several cities were in the hands of the protesters, including Sirte where he has long received foreign visitors.
"Libya is at a crossroads. If we do not agree today on reforms... rivers of blood will run through Libya," he said in a fiery but rambling televised speech that betrayed a note of desperation within his father's 41-year regime.
"We will take up arms... we will fight to the last bullet. We will destroy seditious elements. If everybody is armed, it is civil war, we will kill each other... Libya is not Egypt, it is not Tunisia."
Within hours of the statement, protesters in the capital Tripoli attacked state broadcast offices and set branches of the People's Committees that are the mainstay of the regime ablaze overnight, witnesses told AFP today.
"The headquarters of Al-Jamahiriya Two television and Al-Shababia radio have been sacked," one witness said by telephone on condition of anonymity.
Broadcasts on both channels were interrupted on Sunday evening but resumed on Monday morning.
A number of witnesses said protesters had torched public buildings in the capital overnight, including the interior ministry, People's Committee offices and also police stations.
"Protesters burned and ransacked the ministry of interior building," in central Tripoli, one witness told AFP by email.
Earlier, heavy gunfire erupted in central Tripoli and several city areas for the first time since the uprising began in eastern Libya, witnesses and an AFP journalist reported.
"When we heard the unrest was approaching, we stocked up on flour and tomatoes. It's definitely the end of the regime. This has never happened in Libya before. We are praying that it ends quickly," the resident of a suburb east of Tripoli told AFP in Cairo by telephone.
"Our neighbour was killed last night," added another Tripoli resident in the centre of the capital. "There is a lot of shooting outside. No one from our family has gone to work today."
Several cities, including Libya's second most populous Benghazi, where the protest movement started, have fallen to demonstrators following the defection of some army units, the International Federation for Human Rights said on Monday.
It put the death toll since the start of the uprising at 300 to 400.
Saif al-Islam Kadhafi, 38, who holds no formal government post but wields vast influence as his father's heir apparent, suggested that Benghazi was out of government control. AFP