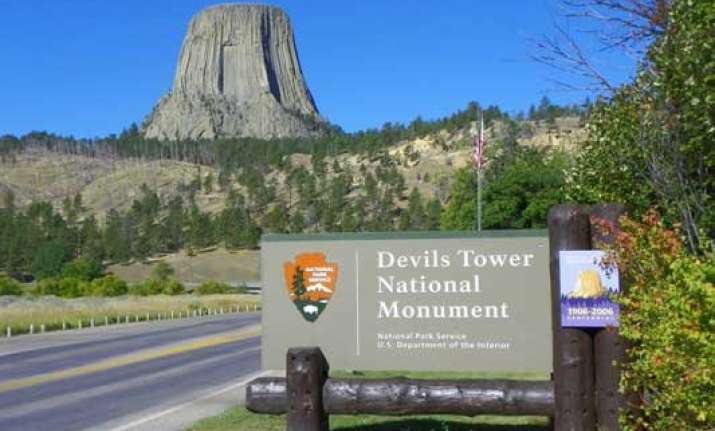 Washington: The name Devil's Tower originated in 1875 during an expedition led by Col. Richard Irving Dodge when his interpreter misinterpreted the name to mean Bad God's Tower, which then became Devil's Tower.

It was first declared United States National Monument, established on September 24, 1906, by President Theodore Roosevelt.

It is located in the Black Hills near Hulett and Sundance in Crook County, northeastern Wyoming, above the Belle Fourche River.




It rises here like a rocky sentinel. Most of the landscape surrounding it is composed of sedimentary rocks. These rocks are formed from broken or dissolved fragments of other rocks and are usually deposited by water or wind.

Geologists say that the Devils Tower was formed by magma which cooled underground and was later exposed by erosion.




The magma which formed Devils Tower cooled and crystallized into a rock type known as phonolite porphyry. It is a light to dark-gray or greenish-gray igneous rock with conspicuous crystals of white feldspar. Hot molten magma is less dense and occupies more volume than cool hardened rock. As the rock cooled, it contracted, forming hexagonal (and sometime 4-, 5- and 7-sided) columns separated by vertical cracks.




It soars over 1,200 feet above the ground. It is a famous attraction among wildflowers lovers,  nearly 60 varieties of wildflowers have been spotted in the area. April, May and June are popular season to visit for them.




One can take a ranger-led tour of the monument. The easy 1.5-hour walk features topics that include geology, the area's indigenous people, wildlife and more. In recent years, climbing Devils Tower National Monument has increased in popularity.




The tower's sheer rock faces and hundreds of columns and cracks are a siren song for climbers. All climbers must register with park authorities and check in after their climb. In an effort to keep the monument healthy for millions of future visitors, the tower closes to climbers during the month of June.