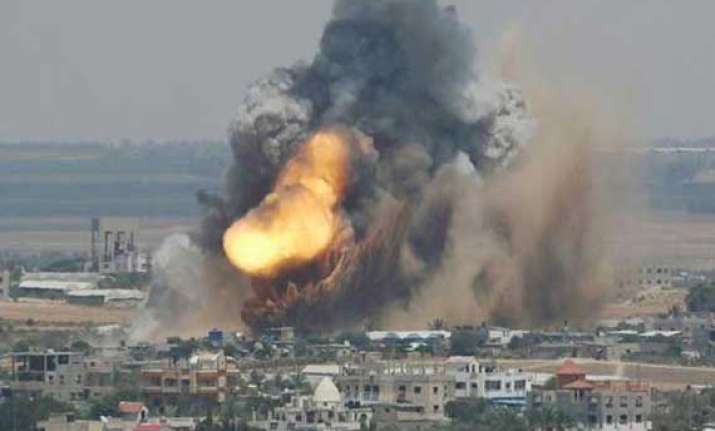 Gaza/Jerusalem: Israel today unleashed more airstrikes on Gaza and shot down a drone used for the first time by Hamas militants even as international pressure mounted on both to end the week-long conflict that has killed 177 Palestinians.
Although Israel has delayed its ground offensive amid global calls for a ceasefire, the military continued its airstrikes, killing six people today.
The Israeli military said that it shot down the drone spotted along the Israeli coastline, near the city of Ashdod.  Hamas' military wing said in a statement that it has sent a number of drones on missions inside Israel and would provide more details in due course.
About 17,000 people from the Beit Lahiya area in the northern Gaza Strip streamed for protection into UN-run facilities after Israel yesterday warned residents of the area to leave their homes.
Israeli warplanes bombarded the vacated area, hitting alleged launch sites and homes of members of extremist groups such as Hamas and Islamic Jihad. The assault was carried out mostly by air, but the Israeli navy also reportedly fired shells from the sea.
Despite the concentrated attack, militants continued to fire rockets at a broad swath of Israel. A teenager became the second Israeli civilian to be severely wounded. No Israelis have been killed by the rocket strikes.  Israeli air strikes today hit three training facilities of Hamas's military wing and buildings in Gaza city, causing injuries.
By this morning, the death toll from nearly a week of Israeli airstrikes reached 177 -- all of them Palestinians— with more than 1,280 wounded, according to Palestinian health authorities.