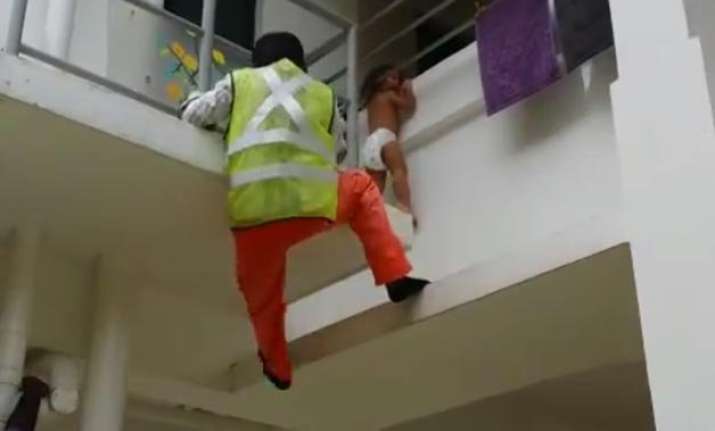 Singapore: Two Indian nationals in Singapore were on Friday hailed as heroes and commended for saving a dangling toddler stuck between the rails on a parapet of a second floor apartment block.
S Shammugun Nathan, 35, and P Muthukumar, 24, were both lauded by the Singapore Civil Defence Force (SCDF) for their bravery act on Thursday.
Both are working in the construction sector here and were on a project in the Jurong East estate, a planning area of Singapore near the apartment block from where the toddler was heard crying.
The two workers were awarded the Public Spiritedness Award for their actions in helping the toddler, SCDF said.
Shammugun climbed up to a second floor unit to support the three-year-old girl whose head was trapped in between the rails of an external clothes drying rack outside the service yard.
SCDF said they were alerted of the incident on Thursday and its rescue vehicle arrived at the scene within five minutes.
While the toddler was freed by the time the SCDF rescue vehicle had arrived, SCDF firefighters brought her to safety with a ladder.
Shammugun has been in Singapore for four years, while Muthukumar for three years.
"The toddler was playing with an iPad when it fell over,which was why she climbed out after it," Muthukumar said.
On receiving the award, Muthukumar said that he was very happy, and that he hoped more people would take similar actions.
"I believe in paying it forward," added Muthukumar, who said he believes that someone will help his own kids in future.
No visible injuries were seen on the toddler except someredness on the face, and the parent at the scene had refused to send her to the hospital, SCDF spokesperson was quoted as saying by the Channel News Asia.