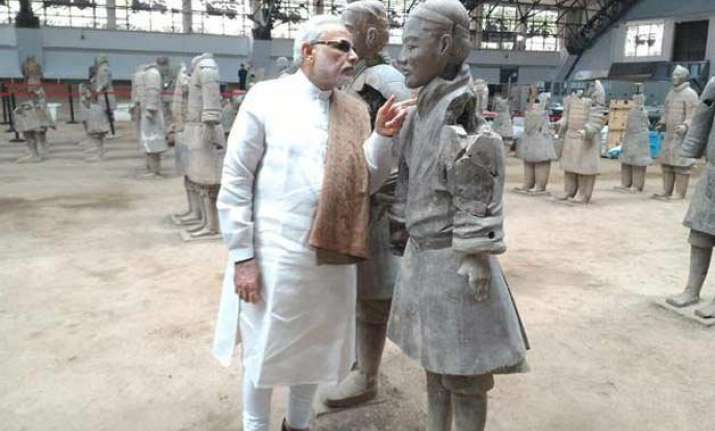 Xi'an: Prime Minister narendra Modi today began his official three day tour to China by visiting famous Terracotta Warriors Museum but the Indian media contingent accompanying him was not allowed to enter.
Modi spent an hour inside the museum while the Indian media waited for him outside as they were told by Chinese officials that they did not have the requisite permission to follow the Prime Minister inside the museum.
The journalists complained that the officials behaved rudely.
Indian officials put the blame entirely on the Chinese side and said they would take it up with Beijing.
The interpreter accompanying them said there was "total lack of communication" between the ministry of external affairs (MEA), the Indian embassy and the Chinese officials.
PM Modi China visit day 1 Live coverage
Modi visited the museum this morning after arriving here to a grand welcome. He is on a three-day trip during which he will also visit Beijing and Shanghai.
The Prime Minister spent about an hour going around the museum. He also enquired about the excavation work being undertaken there.
In the visitors book, Modi wrote that he was "deeply impressed" by the extraordinary care with which the museum has been preserved.
The museum complex houses the 'Terracotta Army' or the 'Terracotta Warriors and Horses', a collection of terracotta sculptures depicting the armies of Qin.
The museum complex, a UN world heritage site, also houses Qin's mausoleum.
The visit to the museum was Modi's first official engagement in Shaanxi province's Xi'an, an ancient city steeped in Chinese and Buddhist culture.