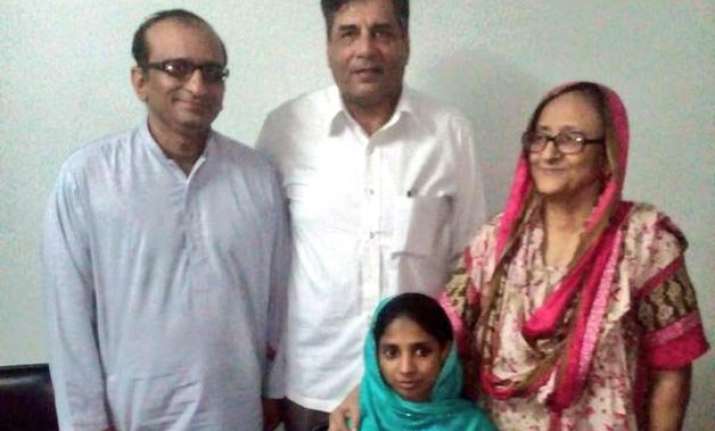 Karachi: Reaching out to help, Indian High Commissioner TCA Raghavan and his wife today met a deaf and mute Indian woman stuck in Pakistan for more than a decade and assured her to locate her family as soon as possible.
"The purpose of my visit to this centre is to find out all details about Geeta's case and background and try to locate her family and relatives as soon as possible," Raghavan told reporters at the Edhi trust shelter home here.
"The fact that I have come here is itself a message of peace from our government," he said. His visit to Karachi comes a day after after External Affairs Minister Sushma Swaraj tweeted that she had directed the Indian High Commission in Islamabad to meet with the girl and resolve the issue.
"Reaching out to help. HC Raghavan and his wife Ranjana meet with 'Geeta' in Karachi, stranded from home for 15 years," Ministry of External Affairs spokesperson Vikas Swarup tweeted.
Geeta, 23, is believed to have mistakenly crossed into Pakistani territory as a child. She was 7-8 years old when she was found by the Pakistan Rangers 15 years ago from Lahore railway station, according to reports from Pakistan.
Flanked by Bilques Edhi, the wife of Maulana Abdul Sattar Edhi, and Geeta, dressed in a light green shalwar kameez, Raghavan noted that despite all differences and disputes there was a relation of humanity between Pakistan and India.
Raghavan said that the Indian government as a policy tries its best to help out people who had crossed into Indian territory by mistake.
"We try to help those who cross over by mistake," he said.
He also agreed that the release of Indian fishermen by the Pakistan government was a positive step and would help relations between the two neighbouring countries.
Human rights activist and former minister Ansar Burney, who had raised Geeta's issue three years back while visiting India, said the visit by the Indian High Commissioner was a step in the direction.
"He will now report back to his government and I am sure finally this poor and innocent girl will be able to go back to her country," Burney told PTI.
Raghavan later stayed at the Edhi shelter home in the old city area of Mithadar and spent time with Geeta, who conversed with him and his wife using sign language.
He also praised the welfare and social work of Maulana Sattar Edhi.
Geeta has got a fresh lease of hope mainly due to the runaway success of the Salman Khan-starrer 'Bhajrangi Bhaijan'.
Salman's movie revolves around a speech-impaired girl from Pakistan who finds herself lost in India with no way to return her home. An Indian man undertakes the task and reunites her with her family in Pakistan.