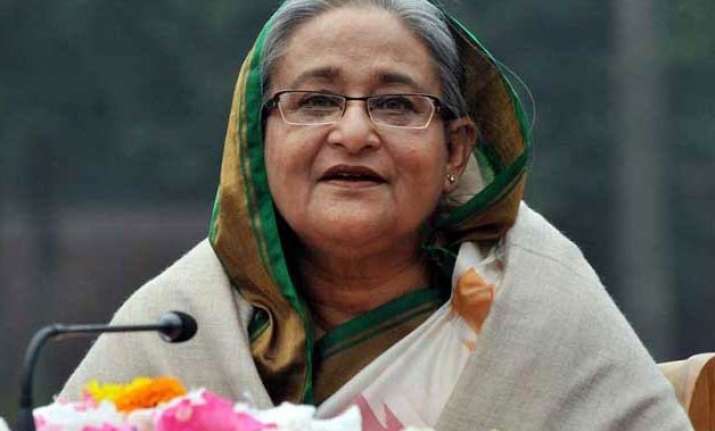 Dhaka: Bangladesh Prime Minister Sheikh Hasina today dismissed the Islamic State's claims of shooting dead two foreigners within a week, saying the Opposition BNP-Jamaat alliance has killed them to "tarnish" her government's image.
A day after a 66-year-old Japanese national was shot dead by masked gunmen, authorities stepped up security of foreign diplomats and deployed heavily-armed police officers to guard the capital's diplomatic zone, amid calls by the US and the EU to quickly bring the perpetrators to justice.
"We have still not found any involvement (of ISIS). We have to investigate," Hasina told reporters at Ganabhaban, her official residence in the capital, after arriving from New York where she attended the 70th UN General Assembly session.
Describing the murders of the Japanese and an Italian nationals as "clearly planned and politically motivated", she said the killings were part of a conspiracy to "tarnish the image" of her government.
"There is no reason to believe that all our achievements will be overshadowed by these heinous murders, but that is what is being attempted," she said.
The BNP-Jamaat have "definitely abetted these murders in an attempt to overshadow Bangladesh's achievements", she said.
Hasina, however, said Bangladesh has witnessed homegrown radicalism in the past when elements like the outlawed Jamaatul Mujahideen (JMB), Harkatul Jihad al Islami (HuJI) emerged during the past regime of her archrival Khaleda Zia's BNP-led rightwing alliance government with fundamentalist Jamaat-e-Islami being its key partner.
She said that the murders of foreigners have taken place at a time when the war crimes trials are taking place.
The trials involve top Jamaat leaders who were opposed to Bangladesh's independence from Pakistan in 1971. Some Jamat leaders have already been sentenced to death.
Police, meanwhile, stepped up security in the capital's diplomatic zone. Heavily-armed officers patrolled key roads and entry points in the wake of the latest murder.
The government has boosted security of foreign diplomats and foreigners across the country, police said.
Elite anti-crime Rapid Action Battalion (RAB), armed police and plainclothesmen kept an eye on traffic movement setting up makeshift check posts at thoroughfares of the upmarket Gulshan district where most of the foreign embassies are housed.
Bikers were specially checked as the assailants had used motorbikes in murdering both the foreign nationals, Italian aid official Cesare Tavella in Dhaka and Japanese businessman Kunio Hoshi in northwestern Rangpur.
"Not only at the diplomatic zone, we have enforced the vigil also at places where the foreign nationals live," police headquarters spokesman Nazrul Islam told PTI.
He added "We have set up check posts, installed more CCTV cameras and mobilised plainclothesmen alongside our units in uniforms so that nothing goes beyond our security scans".
Japanese national Koniyo, who was headed to an agriculture farm on the outskirts of northern Rangpur city in a rickshaw, was shot thrice in the chest, shoulder and hand by the unidentified assassins yesterday. He died instantly.
In a statement in Arabic language, the IS which has ambitions to spread into South Asia claimed responsibility for the attack on Koniyo, according to SITE Intelligence Group, which monitors jihadi postings online.
Koniyo's murder came five days after 50-year-old Italian aid worker Tavella was killed when motorbike-born terrorists shot him dead in Dhaka's diplomatic area.
The IS had also claimed responsibility for the killing of the Italian aid worker.
"We will take action and track down the culprits. But if we get carried away by these murders and overlook our achievements, the BNP-Jamaat conspiracy will be successful," Hasina said.
"We've got no clues. If someone claims responsibility, why should we have to accept it?" she said.
"Until we find out the link through investigation, I don't think there is any reason for us to accept it," she said, adding that intelligence agencies are working on that.
Koniyo had been in Rangpur for the past six months and was familiar in the neighbourhood because of his philanthropic work.
He had set up the farm, where he visited daily, with help of a local businessman to grow grass for cattle.
Police detained the businessman, along with the rickshaw puller, Koniyo's landlord and another resident of the area, for questioning.
Bangladesh had previously downplayed the IS claim of killing the Italian worker, describing it as an "isolated incident".
But security officials have not ruled out that the IS could be using "local sympathisers" to carry out such attacks.
Worried over the killing of a second foreigner within a week, the US and the EU today asked the government to probe the murder and bring the perpetrators to justice quickly.
Bangladesh, a secular country with a predominantly Muslim population, has been struggling to curb the rise of violence by hardline Islamist groups.
It has banned several groups that have been blamed for killing four bloggers, including an American citizen of Bangladeshi origin, this year.
Australia, Britain and the US have issued advisories for their nationals intending to or currently visiting Bangladesh, following the Italian aid worker's death.
The Australian cricket team has also postponed their planned tour to the country over security concerns. Bangladesh's booming foreign currency earning garments industry apparently saw a setback following the attacks as western buyers had begun to cancel visits.
"Several of the US and other western buyers have scrapped their planned business tour in Bangladesh while they were expected to place orders at this particular time of the year," said owner of a readymade garments unit Imtiaz Ahmed.
The garment industry, which supplies Western brands such as Wal-Mart, JC Penney and H&M, has already been in the spotlight over several fatal accidents, such as the 2013 collapse of a building housing factories that killed more than 1,130 people.