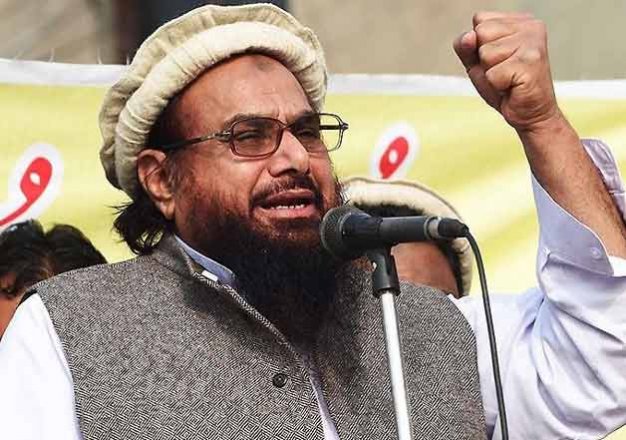 Peshawar: 26/11 mastermind and chief of banned outfit Jamaat-ud-Dawa Hafiz Mohammad Saeed once again pitched an anti India call at a rally held in Pakistan's Peshawar district on Monday.
Saeed is among the top in the India's most wanted list of terrorists as well as listed in the NIA's wanted list.
Saeed, once again, reiterated his support to the so called struggle of Kashmir and warned in India that the movement for attaining freedom of Kashmir will intensify in the coming days. He affirmed that world's largest democracy will be forced to give up Kashmir.
Also Read: We support Pakistan army's 'jihad' in Kashmir, says Hafiz Saeed
Terming India as number one enemy, he said "If India is not ready to give their rights, and if they fire then jihad is the only way. Pakistan has always taken a stand that it is the right of a Kashmiri to get azadi. So, we say whenever our army takes a stand on helping the Kashmiris then we stand by the forces."
The rally was called in to express solidarity with Saudi Arabia in its war against Houthi rebels in Yemen. The well attended rally saw the participation of Member of Parliaments of ruling Pakistan Muslim League N), Imran khan's PTI and Jamat-e-Islami.
The statement, interestingly, came at time when Chinese President Xi Jinping is on a two-day official visit to Pakistan. Xi, on Sunday, had said that visiting Pakistan was  like visiting the home of his 'own brother'. He vowed to strengthen China's ties with its all-weather friend.