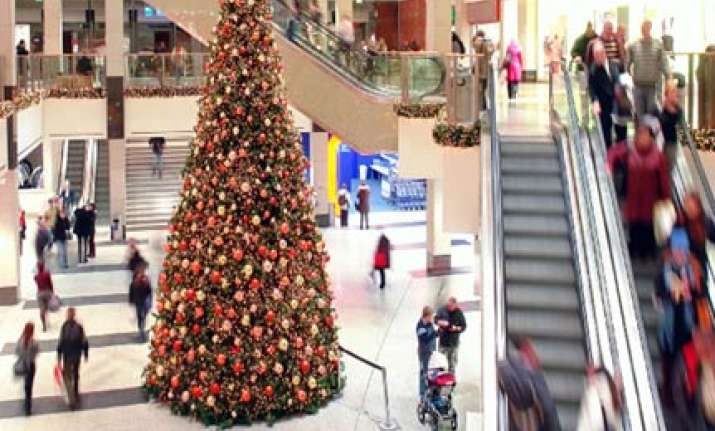 New York, Nov 26: Retailers are ushering in the traditional kickoff of the U.S. holiday shopping season on Friday with expanded hours, deep discounts and online deals to draw bargain-hungry shoppers.
In a bid to grab shoppers earlier, a number of stores including Old Navy, Toys R Us and Sears opened on Thanksgiving Day. Toys R Us was counting on getting an extra boost by opening 24 hours straight, starting at 10 p.m. EST (0300 GMT) on Thanksgiving.
The crescendo follows a weeks-long push to woo shoppers. Many stores had trotted out the so-called "Black Friday" label on sales as far back as October. The "Black Friday" label comes from retailer's goal of capitalizing on the holiday shopping season to turn a profit for the year, going "in the black" instead of "in the red."
Retailers are hoping to capture dollars on the Web. Wal-Mart and Target were among a gaggle of retailers that dramatically stepped up deals on their websites Thursday, hoping to lure online shoppers.
The fierce battle for shoppers' wallets promises savings for those willing and able to buy amid an economy that's still worrying many.
The good news is that retailers are heading into the season with some momentum after a solid start to November. Shoppers who can afford it are buying more nonessentials, like jewelry and luxury goods. That's helping to lift their spirits about the holiday season, which is expected to generate revenue gains modestly higher than a year ago.
"It's a dogfight between retail companies," said Chris Donnelly, a senior executive in consulting group Accenture's retail practice. "This year is the first time that there's a little more money in the marketplace so they're being more aggressive about getting the last dollar. At the end of the day, they're going to outweigh people who are pulling back."
Still, nearly 15 million are unemployed, and concerns about job security still cloud consumer confidence. Spending may be picking up but has not returned to pre-recession levels.
So, retailers are pushing deals on basics as well as offering discounts on more deluxe items, from bigger flat-panel TVS to more elaborate play sets.
Kohl's, which planned to open at 3 a.m. Friday, one hour earlier than a year ago, is promoting diamond bracelets and diamonds heart pendants for $99 each, down from $500 or $575. The store is also offering 50 percent off all toys.
Thanksgiving weekend is huge for retailers. In recent years, Black Friday has been the busiest shopping day of the year, according to data from research firm ShopperTrak. But it doesn't necessarily provide a complete forecast of holiday sales. In fact, shoppers seem to be procrastinating more every year, so the fate of the holiday season is increasingly down to the last few days.
Retailers do study buying patterns for the weekend to discern shoppers' mindset. This year, that means taking the measure on their willingness to spend just a little bit more.
Last year, the Thanksgiving shopping weekend accounted for 12.3 percent of overall holiday revenue, according to ShopperTrak. Black Friday made up about half of that. AP