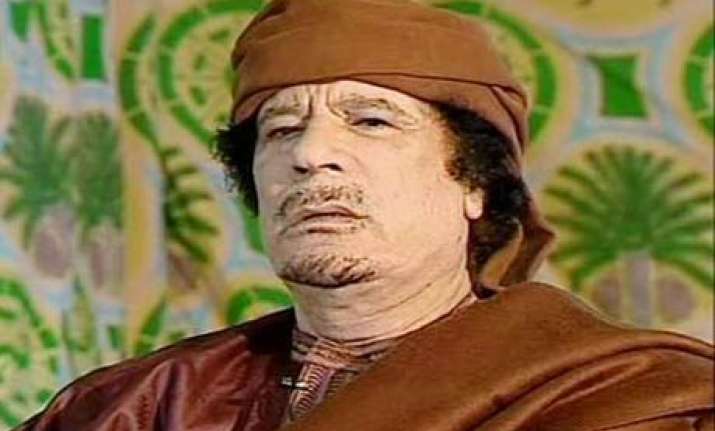 Tripoli, May 14  : Moammar Gadhafi may be wounded and on the run, Italian Foreign Minister Franco Frattini said on Friday, adding that the Libyan strongman's regime was disintegrating.

Frattini's remarks, based on a comments he said were made to him by the Roman Catholic bishop of Tripoli, came as rebel leader Mahmud Jibril was headed for the White House to press for US recognition and aid.

"I tend to think of as credible comments by the bishop of Tripoli, monsignor (Giovanni Innocenzo) Martinelli, who told us that Gadhafi is very probably outside of Tripoli and probably also injured. But we don't know where he is," Frattini told reporters in Rome.

An AFP correspondent in Tripoli attempted to reach Bishop Martinelli by telephone but was unsuccessful. Frattini had earlier told Corriere della Sera daily: "I am of the view that (Gadhafi) has probably fled from Tripoli but not from the country." He also cast doubt on the reliability of television images showing Gadhafi on state television earlier this week. "I have a lot of doubts that those images were shot that day," he said.

On Wednesday, the television showed footage of Gadhafi in a meeting, which it said was with eastern tribal  dignitaries that same day. Frattini said international pressure was causing "the disintegration of the regime from the inside, which is what we wanted," adding that arms depots had been raided by rebels on the outskirts of Tripoli in the past few hours. "We have seen some rebel flags flying... in eastern Tripoli," he said.

"International pressure has apparently provoked a decision by Gadhafi to seek refuge in a safer place," Frattini said.  With rebel forces claiming to be only 10 kilometres from Zliten, their next main military target on the road to Tripoli, insurgent leader Mahmud Jibril was to hold talks with US National Security Adviser Tom Donilon.
Officials would not say whether President Barack Obama would drop by the meeting, a practice sometimes used with  guests for whom protocol does not dictate an official meeting. Jibril, who handles foreign affairs for the rebels' National Transitional Council (NTC), was asked by CNN television what he expected from the talks and replied: "We need the recognition." The Libyan opposition, based in the eastern city of Benghazi, wants Washington to recognise the body as "the sole legitimate interlocutor of the Libyan people," he said.(AFP)