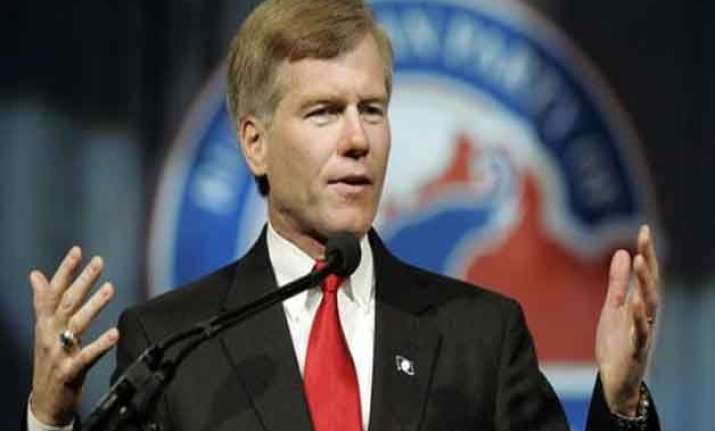 Washington: A US federal judge Tuesday sentenced former Republican Virginia Gov. Robert McDonnell to two years in prison for accepting gifts and loans valued at some USD 177,000 over a two-year period in exchange for his support on certain matters.
McDonnell, the first governor of Virginia to be convicted of a crime, was facing up to 12 years in federal prison for the 11 charges of which he was found guilty in September.
McDonnell said that he stood before the court with a "broken heart" and took full responsibility for his actions as governor shortly before federal Judge James R. Spencer handed down the sentence.
The former governor, 60, was sentenced to two years in prison and two additional years on parole and it is expected that he will begin serving his sentence on Feb 9.
McDonnell and his wife Maureen were found guilty in September of the majority of the charges filed against them concerning accepting luxury gifts, clothing, travel and even loans from a rich Richmond, Virginia, businessman named Jonnie Williams in exchange for favors granted to the latter's companies.
The McDonnells' trial began in July and, in all, 67 witnesses provided testimony dissecting the relationship between the couple and Williams, the owner of the Star Scientific food products company.
That firm received access to top officials and to the governor's mansion to hold promotional events for its food supplements, which have not been approved by the Food and Drug Administration.
Williams' firm also paid for the wedding expenses of one of the ex-governor's daughters, it was determined during the trial.
Throughout the trial, however, the former governor insisted that he had done nothing illegal by accepting gifts and obtaining loans.
Before the scandal, McDonnell was one of the most highly-respected Republican politicians and had even been touted as a possible presidential candidate in 2016.
His trial generated enormous media attention in the US and his attorneys have said that they will appeal the conviction, but - if they are unsuccessful with that appeal - they will also ask that he be able to serve his sentence in the prison in Petersburg, Virginia, so that he can be close to his family.
The governor's wife, who was found guilty of nine counts, will be sentenced separately on Feb 20.