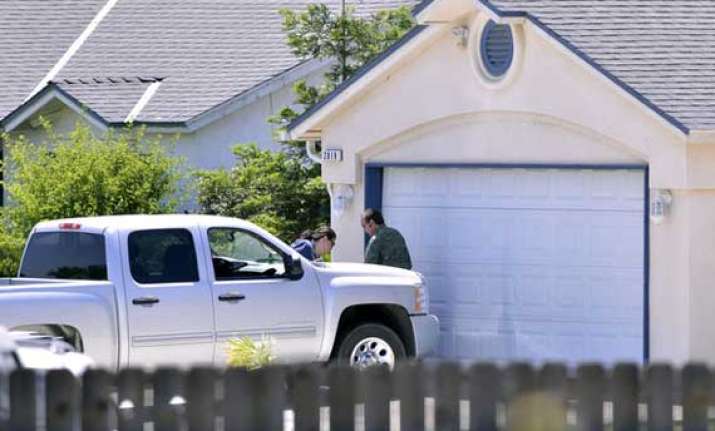 Washington, Jun 10:
A 47-year-old former Indian Army officer, wanted for a suspected murder of a Kashmiri human rights lawyer, today killed his wife and two of their children before committing suicide in his California home, police said.
Avtar Singh called Selma police around 6:15 am and told them that he had killed members of his family and was going to kill himself, the msnbc.com quoted the Fresno County Sheriff's Office as saying.
Local police sought aid from Fresno County sheriff's officials because Singh had military experience, Fresno County Sheriff Margaret Mims said in a statement.
Sheriff's officials tried to contact Singh verbally and by phone, but he did not respond, Mims said.
When a sheriff's SWAT team entered the home after first examining it with a robot, members found the bodies of Singh, his wife and two children, ages 3 and 15, Mims said, adding a wounded teen was also found in the home.
The teen was taken to a hospital and is in critical condition with life-threatening wounds, the statement said.
However, motive behind his killing spree was not known immediately.
A SWAT robot entered the home about 8 a.m. and revealed one injured person but did not find anyone else alive, Fresno County Sheriff Margaret Mims said.
SWAT team members then entered the home and heard sounds coming from a bedroom, where they found a 17-year boy with severe head trauma. He was taken to Community Regional Medical Center in Fresno, where he was undergoing surgery. His condition was not known, but his injuries were considered life-threatening.
About a year ago, Selma police were called to the home to investigate a domestic violence incident. At the time, law enforcement officials discovered that Singh had a murder warrant from India, frenscobee.com reported.
Selma police last had contact with Singh about two months ago when he called to complain that the media would not leave him alone because of the murder warrant, Mims said.
He said he "could not live like this," Mims said. It is unclear which media Singh was referring to.
However at some point, Indian officials chose not to try to extradite him, Mims said, and police had no cause to hold him.
Alli Adan, a driver for a trucking company that Singh owned and operated, said he was shocked to hear of the alleged murder-suicide. "I couldn't believe it," Adan said, "because I didn't think he could do something like this."
Adan said Singh recently talked about being stressed over financial problems related to his company, Jay Truck Lines in Selma. Singh had about five trucks, Adan said.
But Adan said he spent time with Singh this past week, including Friday night, and Singh acted normally.
The case of suspected custodial killing of Andrabi in which Major Singh is a prime accused, is pending before a court in Srinagar for a decade after the High Court had ordered registration of a murder case in this regard.