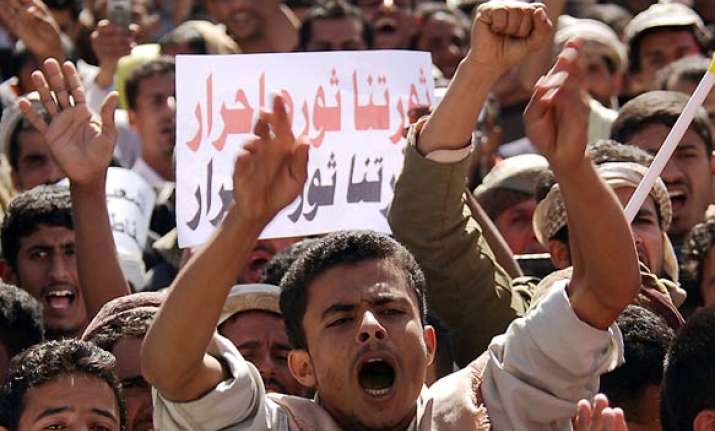 Cairo, Feb 26: Well-equipped foreign mercenaries are providing key support to Muammar Gaddafi in Tripoli and surrounding areas, reports Al Jazeera.
There have been frequent reports of foreign mercenaries working for Gaddafi against the protesters, but their nationality remains uncertain.
The government of Chad has moved to counter allegations that Chadian mercenaries were being recruited to go to Libya.
"International media inundates the public opinion with information alleging some Chadian would be mercenaries currently acting in Libya," Moussa Mahamat Dago, the Chad foreign ministry's general secretary, said on Friday.
"We want to formally and categorically deny all those allegations that are dangerous and could pose a material and physical danger to the many Chadians living in Libya for years and always in a peaceful way."
People in eastern parts of the country, a region believed to be largely free from Gaddafi's control, held protests in support for the demonstrations in the capital.
"Friday prayer in Benghazi have seen thousands and thousands on the streets. All the banners are for the benefit of the capital, [they are saying] 'We're with you, Tripoli'," Al Jazeera's Laurence Lee reported.
In the town of Derna, protesters held banners with the messages such as "We are one Tribe called Libya, our only capital is Tripoli, we want freedom of speech".
Al Jazeera's correspondent in Libya reported on Friday that army commanders in the east who had renounced Gaddafi's leadership had told her that military commanders in the country's west were beginning to turn against him.
They warned, however, that the Khamis Brigade, an army special forces brigade that is loyal to the Gaddafi family and is equipped with sophisticated weaponry, is currently still fighting anti-government forces.
The correspondent, who cannot be named for security reasons, said that despite the gains, people are anxious about what Gaddafi might do next, and the fact that his loyalists were still at large.
"People do say that they have broken the fear factor, that they have made huge territorial gains," she said. "[Yet] there's no real celebration or euphoria that the job has been done."
On Friday morning, our correspondents reported quoting witnesses that the town of Zuwarah had been abandoned by security forces and completely in the hands of anti-Gaddafi protesters.
Checkpoints in the country's west on roads leading to the Tunisian border, however, were still being controlled by Gaddafi loyalists.
In the east, similar checkpoints were manned by anti-Gaddafi forces, who had set up a "humanitarian aid corridor" as well as a communications corridor to the Egyptian border, our correspondent reported.
Thousands massed in Az Zawiyah's Martyr's Square after the attack, calling on Gaddafi to leave office, and on Friday morning, explosions were heard in the city.