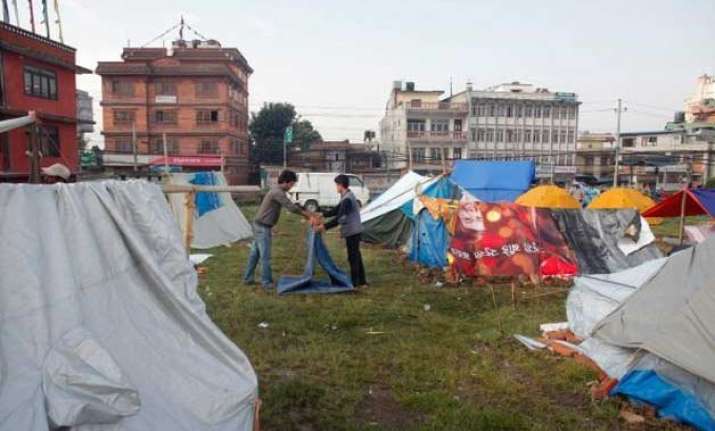 Kathmandu: Though thousands of residents of the Nepali capital living in tents since a devastating quake jolted the country last week, have started to return to their houses, the fear of the temblor's return is still haunting everyone.
The 7.9 magnitude earthquake last Saturday has left over 6,300 dead and thousands of people injured in the country while leaving millions displaced.
Since no major aftershock has been experienced for last three days, a lot of people on Friday were feeling a bit safe to return to their houses. But thousands of people whose homes have been reduced to rubbles or completely damaged will be forced to still live in tents, vehicles and even under open sky.
Many others are reluctant to move into their homes due to fear of another earthquake.
On Thursday, the situation turned so worse that hundreds of thousands of people came out on the roads and in open space after a false rumour spread that another major earthquake was hitting the Himalayan nation.
"It's been the hardest days of our lives. It is also becoming risky to live outside in the tent due to hygiene and sanitation factors. Many are feeling sick," said Goma Shrestha, a resident of the city's Kalanki area.
The occasional rainfalls, aided by poor food and lack sanitation have exposed people to various illnesses. The hospitals in Kathmandu have witnessed surge in number of patients with flu-like symptoms.
Gurung and many of her relatives, staying in plastic tents for four nights, had to manage with very little food and water as no relief assistance came from the government and other organisations. It has been especially difficult for small children to live in tents and open sky.
A media organisation's field visit in various places of Kathmandu found a significant reduction in number of people living in tents.
But many people are consulting engineers before shifting to ensure the safety into their house.
Khagendra Bhurtel, a senior civil engineer having a decade of experience in building skyscrapers, said several people consulted him in last few days before shifting back into their homes.
"It would be wise to take opinion of experts. There are structural cracks in the house. There is no need to consult anyone if there are no such defects in the house. People can live inside their house without any fear if no structural defects were seen," said Bhurtel.
He advised people to use common sense than panicking due to rumours being spread through social media or online portals.
"It is much safer to stay inside the house instead of running out for safety during tremors. Everyone should play a constructive role to free people from fear," Bhurtel added.
Nearly a million people living in Kathmandu have returned to their villages. The government had mobilised hundreds of vehicles to transport people to various places outside the valley, free of cost.
"Many people are going on their own initiatives. The number of people leaving the valley is increasing day by day as they want to be useful in their villages and be with the family members," said Laxmi Dhakal, the home ministry's spokesperson.
Many people, whose houses have partially cracked, are still unwilling to move into their house.
Prabiti Magar of Siraha, living in a rented room in Thamel, sells tea in a street. But she does not wish to take the risk. "The house is made of mud and there are several cracks in it," she said.