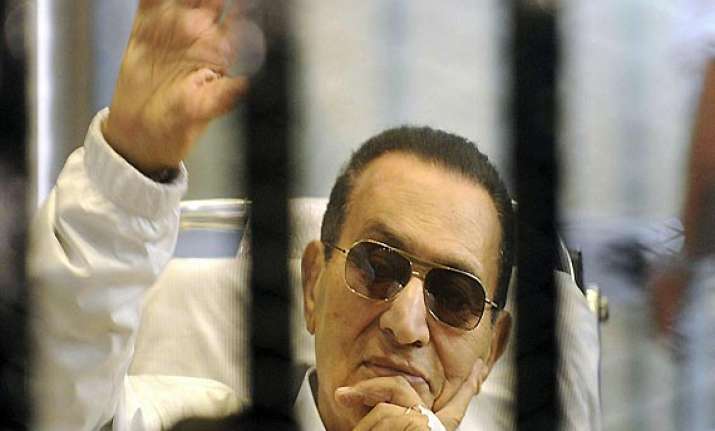 Cairo: Egypt's former dictator Hosni Mubarak, in jail since 2011 facing charges of corruption and killing protesters, is expected to be released today but will be put under mandatory house arrest.
Prime Minister Hazem El-Beblawi ordered the placement of 85-year-old Mubarak following a court order, Egyptian state media reported.
The prime minister issued the order while acting in his capacity as deputy military commander under the rules of the currently enforced emergency law, the report said. 
"In the context of the emergency law, the deputy military commander issued an order that Hosni Mubarak should be put under house arrest," El-Beblawi's office said.  A Cairo criminal court yesterday had ordered the deposed leader's release.
Egypt is currently under a state of emergency after the powerful army last month removed the country's first democratically elected President Mohammed Morsi, leading to widespread violence that left nearly 900 people dead. 
Mubarak, who is lodged in high-security Tora Prison's hospital here, still faces more than one trial on corruption charges and a retrial on charges of complicity in the murder of more than 800 protesters during the January 25 uprising that toppled his regime.
He was sentenced to life in jail last year, but a retrial was later ordered after his appeal was upheld. That retrial opened in May but Mubarak has now served the maximum amount of pre-trial detention permitted in the case. 
Mubarak will also remain on a travel ban list.  According to BBC, analysts say Mubarak's release - if it happens - would be seen by many as a symbolic sign the military is rolling back the changes that flowed from the 2011 Arab Spring uprising in the country.