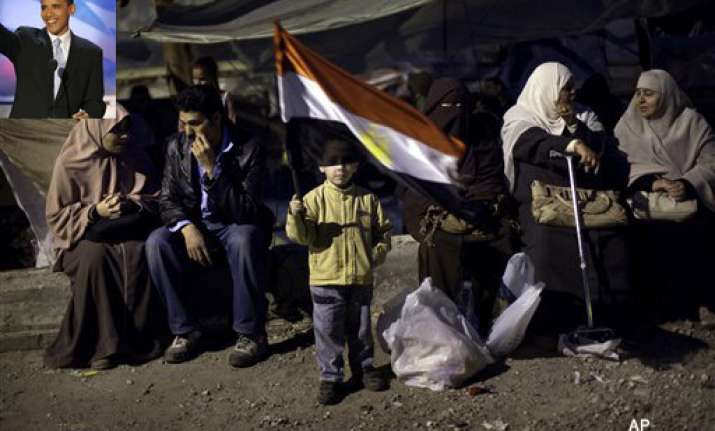 Washington, Feb 7 :  President Barack Obama said Sunday that Egypt is not going to go back to the way it was before pro-democracy protests roiled the country, and played down prospects that the Muslim Brotherhood would take a major role in a new government.
"I think that the Muslim Brotherhood is one faction in Egypt," Obama said. "They don't have majority support."The president said it is important "not to say that our only two options are the Muslim Brotherhood, or to suppress the Egyptian people."
Even so, Obama acknowledged that the Brotherhood, a banned political and religious group in Egypt, is well-organized and "there are strains of their ideology that are anti-U.S."Still, he said he had confidence that a representative government the U.S. could work with would emerge "if Egypt moves in an orderly transition process."
Obama, speaking on Fox television ahead of its broadcast of the Super Bowl, would not be drawn into predicting whether Egyptian President Hosni Mubarak would step down.
"Only he knows what he's going to do," Obama said. "The U.S. can't forcefully dictate, but what we can do is say the time is now for you to start making a change in your country. Mubarak has already decided he's not going to run again."
Secretary of State Hillary Rodham Clinton said Sunday that forcing Mubarak to leave office quickly could complicate the already enormous challenges Egypt faces in transforming itself from autocracy to democracy.
In fact, Clinton said Mubarak's departure could affect "significant actions" he has himself taken to get the reform process started. She said he should be recognized for those steps even if they fall short of what angry protesters in the streets of Cairo are demanding and will not alone produce free and fair elections.
Returning to Washington from an international security conference in Munich, Clinton suggested that the Obama administration was now more focused on encouraging "orderly transition" in Egypt than in seeing Mubarak go quickly. And, she implied that Mubarak's continued, although less powerful, presence at the top of the Egyptian government may actually help complete the process.
She noted that if he resigned, Egypt's constitution would require an election within 60 days, a prospect even some Mubarak opponents have said would not allow enough time to organize a credible vote. In doing so, Clinton became the first senior U.S. official to publicly recognize the pitfalls of demanding Mubarak's immediate ouster on constitutional grounds.
Frank Wisner, the retired U.S. diplomat whom Obama sent to Cairo last week to nudge Mubarak out of the picture, drew attention to the constitutional dilemma on Saturday in remarks to the Munich Security Conference. He also raised a furor by saying that Mubarak was "utterly critical" to the reform process.
That comment bolstered the view in Cairo and elsewhere in the Arab world that Washington had abandoned the protesters in favor of entrenched old guard it has relied on for the past 30 years. It also infuriated the White House, which immediately distanced itself from Wisner, saying he is a private citizen and his views are his own.
Clinton stopped well short of endorsing Wisner's position, and repeated the line that he does not represent the administration. She stressed that decisions on Mubarak's future were up to the Egyptian people.
But at the same time, she said Mubarak had gotten off to a good start in responding to the mounting protests by announcing he would not seek re-election in a scheduled September presidential vote, removing his son from the succession picture, and naming a vice president who has now begun a dialogue with the opposition.
Those "have to be viewed as a very important set of steps," Clinton said.
During the interview on Fox, Obama said the U.S. had long tried to influence Egypt to avoid the kind of revolt that has unfolded over the last two weeks.
"We have also consistently said both publicly and privately that trying to suppress your own people is something that is not sustainable," Obama said. "When you resort to repression, when you resort to violence, that does not work." AP