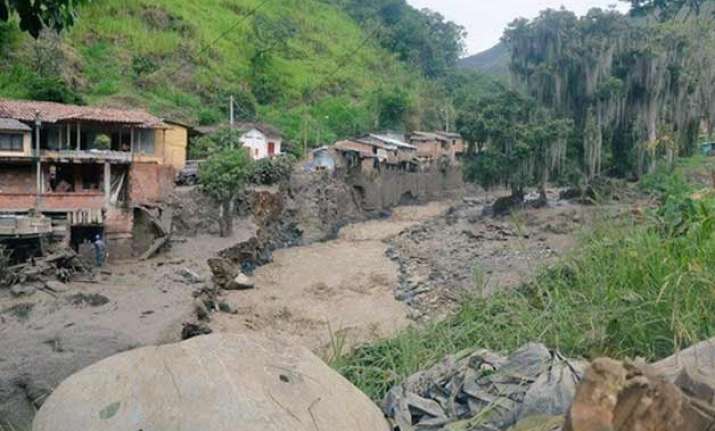 Bogota: At least 48 people died and an unknown number are missing in a landslide caused when a creek overflowed in the town of Salgar, in northwest Colombia, the head of the National Risk and Disaster management Unit (UNGRD), Carlos Ivan Marquez, said on Monday.
"At this time, we have 48 (bodies) in the morgue, whom the Legal Medicine (Institute) is proceeding to identify to be able to... return them to their families," Marquez told reporters.
He added that 27 injured people had received medical attention, although none of them was seriously hurt, and 30 homes were reported destroyed by the flooding of Liboriana creek, practically obliterating the village of Las Margaritas, in Antioquia province.
"At this time, monitoring is being continued in 40 km of affected area on the... homes and families, and... we're going to continue the search efforts," he added.
He also said that 166 members of the National Risk System are working on search and rescue tasks.
Colombian President Juan Manuel Santos travelled on Monday to the area and, after flying over the affected zone, he was scheduled to meet with local and regional authorities, the president's office said.
Marquez also said that a crisis centre and unified command centre will remain active until normality is re-established.
The tragedy in Las Margaritas is "immeasurable", there are "many, many dead", the Salgar government secretary, Zulma Osorio, told Caracol Radio.
She added that the town's infrastructure had totally collapsed, with gas and water service no longer available, adding that 27 injured people had been admitted to various hospitals in the region.
Osorio said that "the landslide occurred after a heavy rain during the night and early morning hours, when the water swept away everything in its path, homes, bridges, entire families".
Antioquia Governor Sergio Fajardo was also expected to visit the area, some 95 km from Medellin, the provincial capital.
"Those affected will receive all our help," said the president in a brief message on Twitter.
Firefighting units have been dispatched to the scene from nearby towns to scour through the ruins of the town for the missing, according to UNGRD, which is coordinating the rescue operation.
Meanwhile, the police ordered a group of 40 rescue personnel to the zone, along with two helicopters to transport the injured and those affected in other ways by the tragedy.