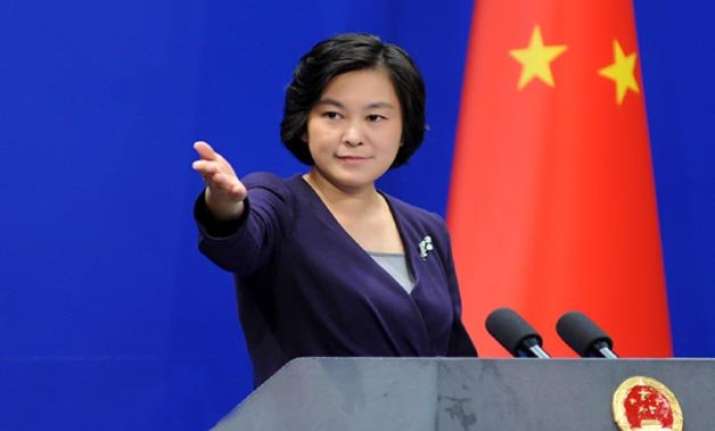 Beijing: China today said it was keen to strive for "more progress" on the resolution of the boundary dispute with India during Prime Minister Narendra Modi's visit here next week.
"We are now in close communication with the Indian side on the preparations to host Prime Minister Modi in China. We believe with our joint efforts we can show Prime Minister Modi that we value China-India relations and his visit to China," Chinese Foreign Ministry spokesman Hua Chunying told a media briefing here.
"The boundary question is an issue of common interest. So I believe that this question will be covered in their talks.  We look forward to enhancing the communication with the Indian side to strive for more progress on the relevant issue," she said replying to a question.
Xi was warmly received by Modi when he visited India last September and "China deeply appreciates this", Hua said while answering questions on Modi's three-day visit to China starting May 14.
About the progress achieved after Xi's visit to India, Hua said, "the two sides have maintained the peace and tranquillity of the border area and positive outcomes have been achieved in economy and trade as well as on some other issues. So we are looking forward to Prime Minister Modi's visit to China and hope to make more efforts to push forward bilateral relations."
During Xi's "successful" visit, the two leaders mapped out strategic cooperative partnership and agreed to deepen bilateral cooperation.
"We are willing to work with India to enhance strategic mutual trust and deepen pragmatic cooperation to press ahead with the strategic cooperative partnership for peace prosperity," she said.
Modi is expected to be hosted by Xi at ancient Chinese city of Xian, the capital of the Chinese President's home province on May 14, where he would reciprocate the hometown diplomacy displayed by the Indian leader during Xi's visit to Ahmedabad last year.
The two leaders were expected to spend considerable time to have informal dialogue on a host of issues before settling for formal talks on May 15 in Beijing.  Besides Xi, Modi will hold talks with Premier Li Keqiang and Chairman of the China's legislature, the National People's Congress (NPC).
Ahead of Modi's visit, Chinese officials have said progress can be achieved on the resolution of the boundary dispute with strong political will.
"There are lot of perceptions about border issue. So long as the two leadership have strong political will we have good prospects of for the resolution of the border issue," Huang Xilian, Deputy Director General of Asian Affairs, told the Indian media here recently.
China says the border dispute is confined only to 2,000 km mostly in Arunachal Pradesh whereas India asserts that the dispute covers the western side of the border spanning to about 4,000 km, especially the Aksai Chin area annexed by China in the 1962 war.
Chinese officials say Beijing is concerned over India's reservations over its 21st century Maritime Silk Road (MSR) plan and Xi was expected to discuss the issues with Modi in his informal talks to address New Delhi's concerns, specially MSR's impact in the the Indian Ocean.  
Xian is the headquarters for the Silk Road projects for which China has already announced USD 40 billion fund.  Besides MSR, the Silk Road projects include Bangladesh, China, India, Myanmar (BCIM) and the USD 46 billion China-Pakistan Corridor.