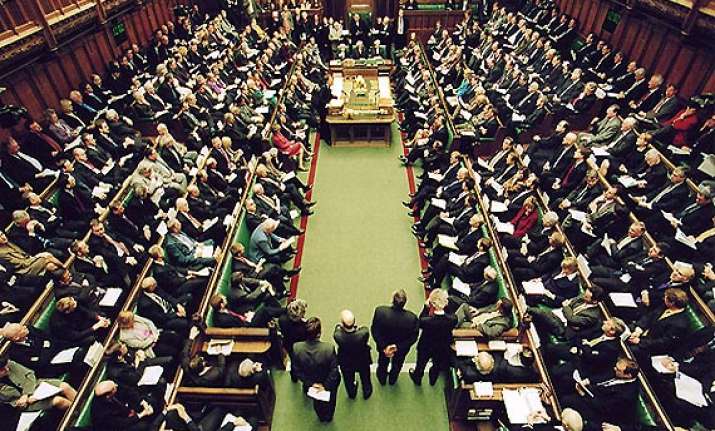 London: In a humiliating blow to Prime Minister David Cameron, British lawmakers have rejected a proposal to participate in a possible US-led military strike against Syria in response to the alleged use of chemical weapons by President Bashar Al-Assad's regime. 
A UK government motion calling for a strong humanitarian response which may have included military strikes was rejected by 272 votes to 285 late last night after seven hours of impassioned debate in the House of Commons.  
Thirty of his own Conservative party rebels and nine Liberal Democrats joined with Labour to inflict a humiliating blow to Cameron's authority as he became the first British Prime Minister in hundreds of years to lose a House of Commons vote on war and peace.
"I strongly believe in the need for a tough response to the use of chemical weapons but I also believe in respecting the will of this House of Commons. It is clear to me the British Parliament does not want to see British military action," Cameron said.
"I get that and the government will act accordingly," he said after the shock defeat.
Later, a spokesman for Cameron's Downing Street office said, "Britain will not be involved in any military action".  Labour leader Ed Miliband said UK military action was now "off the agenda" and said MPs had reacted against Cameron's "cavalier and reckless" leadership.
"I think today the House of Commons spoke for the British people who said they did not want a rush to war," he said.  
Miliband said US-UK ties "cannot simply be about doing what the American president says he wants you to do".  
In the House of Lords, NRI industrialist and Labour peer Lord Swraj Paul opposed any military strike in Syria, saying "To jump into this turmoil seems at the very least to be lacking in wisdom and failing to recall the recent lessons of both Iraq and Afghanistan."
Lord Paul said the tragic situation in Syria deserves the most extreme condemnation from all nations.  
"But I am saddened by the willingness of certain groups in this country, in the US and Europe to advocate military action in order to punish whoever, in their view, is responsible for recent transgressions," he said.  
He said, "for those who have the military power to intervene in others' disputes at their own discretion is a notion that could have potentially dangerous consequences, especially in regions like South Asia."
During the debate, Lord Paul suggested to the government to "practice restraint and beware of becoming an instrument of the confrontational arrogance of others."
"The defence of human rights, if it is sincere, is commendable but must be authorised by proper international procedures and sustained by wide international support if it is to be credible," Lord Paul said, adding that there are many other methods - from sanctions to indirect assistance to evoking international law - that can be pursued.  
He said, "To witness evil and not to fight it is not creditable. Yet to set oneself up as judge, jury and executioner over another's sovereign territory is to assume an arrogance that itself cannot be condoned."
Syrian opposition and the West have accused President Assad of using chemical weapons last week in a Damascus suburb killing hundreds of people, a charge denied by the government.  
The vote in the British parliament triggered a shouting match in the Commons as education minister Michael Gove shouted "disgrace, you're a disgrace" at the Tory and coalition partner Liberal Democrat rebels.  
Cameron had already been forced to water down his position by the Labour party and he had promised direct British involvement would require a second vote.  
A Labour amendment calling for military action only after UN inspectors had given their report and the Security Council had voted was rejected shortly before the main vote.  
Cameron could over-ride the need for parliamentary approval but has promised the Commons that he would not use the "royal prerogative" to order the UK to be part of military action before another vote.
Defence secretary Philip Hammond later described Cameron as disappointed but promised the government would respect "the mood of Parliament".
"We are now clear that we are not now going to be part of any military action, that probably means we will not be part of any planning or discussion. It is certainly going to put a strain on the special relationship. The Americans do understand the parliamentary process that we have to go through," Hammond said.
UN weapons inspectors were due to finish their work today and will report directly to Secretary-General Ban Ki-moon within 24 hours. Their conclusions will set out the evidence on whether a chemical attack had taken place.  
The UK's vote leaves the US administration in flux as Britain was to stand side by side US President Barack Obama over planning any military strikes.
Syrian President Bashar al Assad has vowed the country would "defend itself in the face of any aggression".