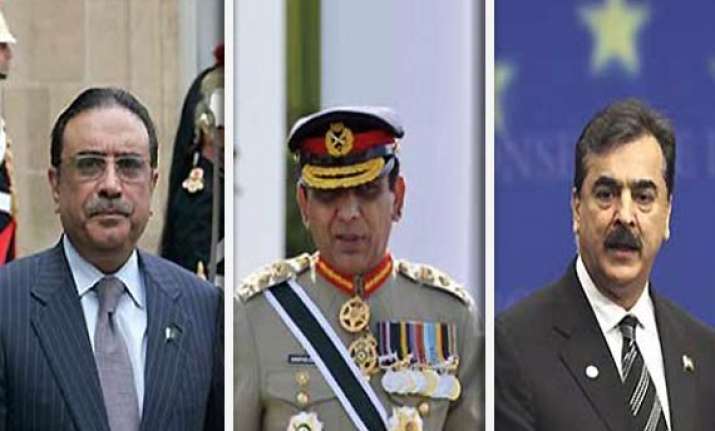 Islamabad, Dec 16: Pakistan's government faced new pressure today as the nation's powerful generals broke with the political establishment's stand to demand a probe into the Memogate scandal that threatens to implicate the President. 

Acknowledging for the first time that the Memogate document existed, Pakistan Army chief Gen Ashfaq Parvez Kayani in a reply filed to the Supreme Court, which is hearing petitions related to the matter, described it as a conspiracy against his force as well as national security, and demanded a thorough probe.

Hours later, filing the government's reply, Attorney General Anwar-ul-Haq, asked the Apex court to dismiss petitions seeking an investigation into the scandal, saying it has already taken appropriate steps to have the issue probed by a Parliamentary committee.

But the Army chief and his intelligence head Lt General Shuja Ahmad Pasha, refused to withdraw their reply to the court.

According to media reports Kayani said the memo impacted "national security" and therefore needed to be fully examined about the facts and circumstances leading to the conception and issuance of the memo.

In his reply, filed separately, ISI chief Pasha confirmed meeting Pakistani-American businessman Mansoor Ijaz, who showed him proof of messages exchanged with Pakistan's former envoy to the US Hussain Haqqani about the memo.  Pasha asked the Supreme Court to summon whistleblower Ijaz to corroborate his version of the incident.

The government's three-page reply, submitted to the court by the Attorney General said the President and Prime Minister have no link to the secret memo that was sent to the US military seeking its help to prevent a possible coup following al-Qaeda chief Osama bin Laden's killing in Abbottabad in May. 

The government challenged the court's jurisdiction to hear the case under a Constitutional provision.  The response said President Asif Ali Zardari and Prime Minister Yousuf Raza Gilani had "neither conceptualised nor initiated" or had "anything to do" with the memo.

It pointed out all political parties in Parliament are represented in the Parliamentary Committee on National Security, which has been asked by the Prime Minister to conduct an inquiry into the matter.

Parliament has "supremacy under the Constitution as a representative body of the people," it added. 

However, Zardari is the only one of the 10 respondents who has not submitted his response within the deadline set by the court. He is currently recuperating in his residence in Dubai after being discharged from a hospital where he was treated for a heart condition.

There is no clarity on whether Zardari will submit a response to the apex court later.

Some of his aides have suggested that he does not need to file a reply as he enjoys immunity by virtue of being President.

The News daily reported that a legal team of the government had decided to furnish Zardari's reply after examining the statements of the army and ISI chiefs.