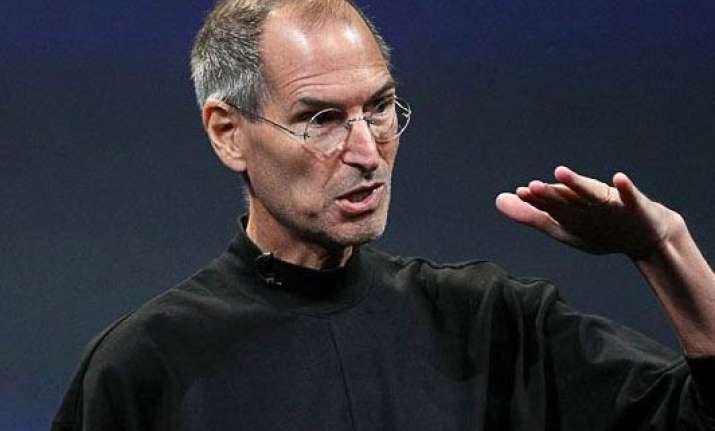 London, Feb 18 :  Apple CEO Steve Jobs has terminal pancreatic cancer and may live for just six more weeks, a media report said Thursday.55-year-old Steve Jobs  had taken medical leave since January and has been working from his home since then.
The National Enquirer, an American tabloid, reported on Thursday that  Jobs is seriously ill and quoted a doctor saying that Jobs might live for only six more weeks.
The doctor came to the conclusion by "analysing recent photographs of Jobs". The tabloid claimed to have taken the photographs while following Jobs to the Stanford Cancer Center at Palo Alto in California.Neither Apple or Jobs had reacted to this report when this story went to print.
While some may rubbish it as speculation, not everyone is too optimistic because Jobs had taken his second medical leave in January, stirring up rumours again.
Besides, the medical history of Jobs is not too encouraging either: In 2004, he had undergone surgery for pancreatic cancer and in 2009, he had a liver transplant.
Apple fans across the country have had mixed reaction to this report.
"The six weeks figure was arrived by someone looking at just the photo published by National Enquirer. That obviously can't be taken as credible information," says Amit Agarwal, renowned tech blogger who writes at Digital Inspiration.
"Right now Apple is very secretive and assertive with everything whether it is the procedure for allowing apps in app store or not allowing Adobe Flash on the iPad. A big part of this decision making process is Steve Jobs. If he leaves, maybe we can expect Apple to be a little less restrictive," Agarwal says, reports Times of India.
P R Rajendran, director of Chennai-based Next Wave Multimedia, a mobile app development company, is such a huge fan that he named his firm after NeXT, the company Jobs started when he was asked to leave Apple in 1985. "Jobs is my hero. His contribution to the tech world is immense. I wish him all the luck," he says.
Rama Bethmangalkar, an Apple fan or iFan and an investment manager at VC firm Ventureast, has bought three generations of Macbooks, talks on iPhone, listens to music on an iPod and reads on his iPad.
"Jobs has been a crazily innovative leader and due credit must be given to him to believe in the designs and products that Apple has churned out. But it's not as if he was the only one who worked on all these products," he says.
"The new leadership will also follow the same pattern that Jobs had. So I don't think him not being there will be a huge detriment to the company's fortune,"
Not everyone is so sure. "Jobs is supposed to be the brain behind most of the company's innovations and the main decision maker. There will be a definite impact on the direction Apple takes in the future if Jobs is not present in the company," says Manoj Kumar, a tech-savvy ex-IITian, who works as a networking professional in Bangalore.
Some also think it's time for Jobs to start planning his successor regardless of the rumours.Timothy D Cook, the company's COO has served as the acting CEO in Jobs' absence more than once.
"But I think Jobs should name future leaders, especially since he has groomed some of the key personnel in the company," says Shuveb Hussain. Hussain heads the cloud computing division of K7 Computing, when not buying Apple products, reading about Apple or eyeing the latest Apple TV.
"Jobs is human so there will be a point in time when Apple will have to function without him. He's an enigma, an icon and a hero to many. It would be curious to think about Apple beyond him."Apple staff say,  Jobs can still be seen at the company's headquarters in California and is also calling all the strategic shots from his home.
The new photos on National Enquirer show Steve Jobs looking painfully frail and weak, with his jeans and dark top hanging loosely on his six-feet-two-inches, frail body, the Daily Mail reported.
The pictures were not yet available online, but Jobs's weight is said to have dropped from a pre-cancer 175 pounds to 130 pounds now, according to the National Enquirer.
His thinning hair was a sign of the effects of chemotherapy used to treat the disease.
The photos, which were taken Feb 8, showed Jobs going for breakfast with his wife Laurene Powell before heading to the Stanford Cancer Centre in California.
Jerome Spunberg, a doctor, said: 'Mr. Jobs is most likely getting outpatient chemotherapy at Stanford because the cancer has recurred.'
Gabe Mirkin, a physician with 40 years' experience, said: 'He is terminal. What you are seeing is extreme muscle wasting from calorie deprivation, most likely caused by cancer. He has no muscle left in his buttocks, which is the last place to go.'
'He definitely appears to be in the terminal stages of his life from these photos. I would be surprised if he weighed more than 130 pounds.'
Critical care physician Samuel Jacobson also said: 'Judging from the photos, he is close to terminal. I would say he has six weeks.'
A source, who recently saw Jobs, added: 'He is very frail, moving like a weak, feeble old man. He weaves back and forth when he walks, as if he is having trouble keeping his balance, and the pain of every step is evident on his face.'
The Apple CEO, who is worth $6 billion, is currently on his third medical leave, and has battled a rare form of pancreatic cancer for seven years and had a liver transplant in 2009.An Apple spokesman did not comment on the new photos.