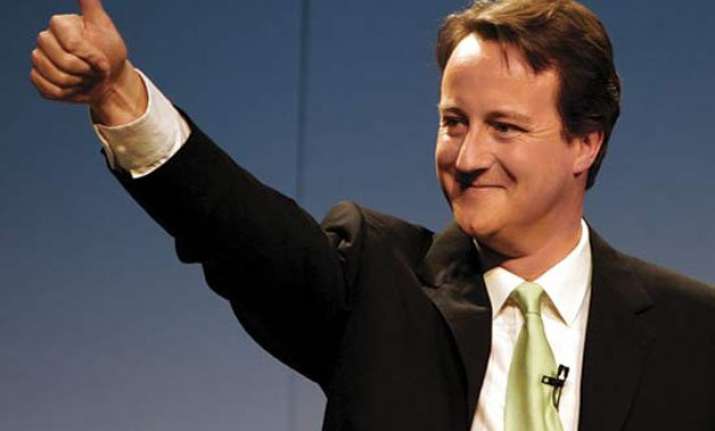 Ahmedabad: Drawing on Prime Minister Narendra Modi's 'Make in India' call, the United Kingdom Saturday announced a campaign to forge collaborations with Indian companies.
The programme called 'Great Collaborations' will seek greater cooperation between the companies based in India and the UK on a range of sectors, an offical statement of the British High Commission said today.
"In response to Prime Minister Narendra Modi's call to the world to make in India, the UK is launching a campaign to celebrate and inspire Great Collaborations between the UK and India," it said.
The campaign will over the time showcase and promote areas of collaboration that benefit both counties across a range of sectors such as energy, healthcare, advanced manufacturing, financial service and infrastructure, it said.  
"The first showcase of 'Great Collaboration' is the partnership between UK's BP plc (BP Petroleum Company) and India's Reliance Industries Limited (RIL) in developing and producing energy," added the statement.  
Following an initial investment by BP of over seven billion dollar in 2011, BP and RIL plan to invest over 1.5 billion dollar in deep-water exploration and production by 2016 with approximately 50 per cent spent to date, it said.  
Subject to regulatory decisions, RIL and BP are keen to progress additional investments of around 10 billion dollar to produce three to four trillion cubic feet of gas from new fields in their K6 D6 deep-water block, the statement said.  
The UK Embassy has also quoted British and Indian Prime Ministers appreciating the financial ties between the countries.
"I am proud of the depth and breadth of the UK's links with India. British companies such as Standard Chartered, GSK, Hindustan Unilever, BP and Vodafone have been making in India for decades.
And companies such as Tata, Mahindra and CIPLA are operating in the UK and India for decades, benefiting both of our countries," British Prime Minister David Cameron was quoted as saying in the statement.  
"Through this campaign we want to inspire and showcase more such great collaborations across all the sectors we work together on.
It underlines our support for Prime Minister Narendra Modi's 'Make in India' campaign and celebrate India and Britain making great things together," Cameron added.
"I am pleased that British industry, supported by its government, is responding enthusiastically to our call for 'Make in India'," Prime Minister Narendra Modi said in the release.
"UK has been one of our strongest economic partners and a leading investor in India. UK is known for its strength in technology and innovation. India offers vast opportunities through its markets, skilled human resources, competitive economic environment and location.
Our businesses also operate in the familiar context of democratic polity, rule of law, languages and management practices," Modi said.  "This creates an unbeatable combination to forge successful partnerships that can bring immense benefits to both countries.
India's new investment climate will, I hope, attract an even greater number of British businesses to set up manufacturing bases in India," he said.  
British Minister of State for Trade and Investment Lord Livingston said here today that the major industrial collaboration between the UK and India will be set up through the programme.
Modi and Cameron are encouraging the financial ties between the two countries. UK's BP and India's RIL are going to make investment under Modi's 'Make in India' call, the minister said.