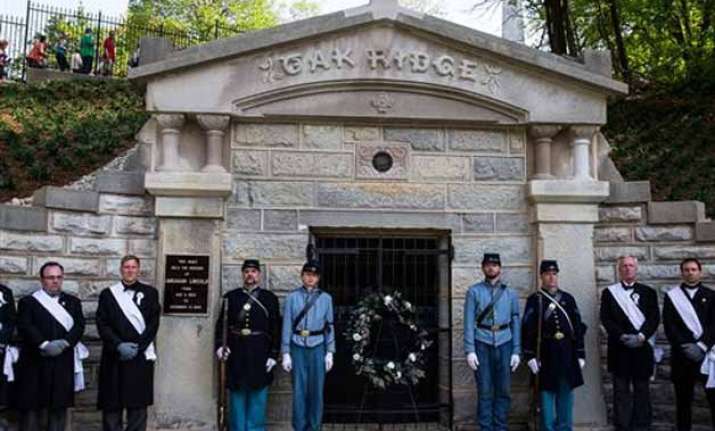 Springfield (Illinois): It was April 15 1865 when the 16th President of United States Abraham Lincoln 'Abe' was shot down by John Wilkes Booth when he was watching Our 'American Cousin' at Ford's Theatre in Washington D.C.
On his death, Secretary of War Edwin Stanton declared, "Now he belongs to the ages."
On the 150th anniversary of his funeral, his hometown proved how profoundly the prairie city still considers the slain president its own.
Thousands of people, including many in period costume, gathered at the Old State Capitol, where the 16th president lay in state, to pay tribute to the simple, country lawyer who saved the Union and thrust the nation toward abolishing slavery.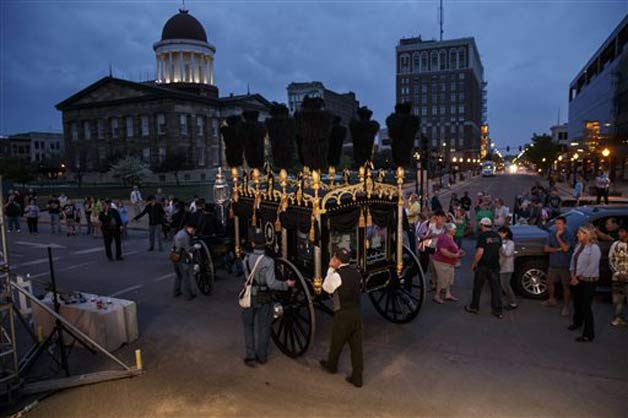 Lincoln was assassinated just after the American Civil War ended. He is widely considered America's greatest president by historians for preserving a unified U.S. and declaring that black slaves in southern states would be freed.
Ranks of soldiers in Union blues and pallbearers, including several direct descendants of those who accompanied Lincoln's casket in 1865, retraced the route from a downtown train station to the old capitol square, where the coffin was taken from a replica hearse and placed on a catafalque during opening ceremonies.
Drums pounded out a funeral march and many of the 1,250 Civil War re-enactors strode by while a costumed chorus sang the "Star-Spangled Banner," and a man in a top hat with a black mourning sash trailing from it ran kid gloves over the coffin to prepare it for a bouquet of flowers.
At the Old State Capitol, where Lincoln served in the Legislature and in 1858 riveted a deteriorating union with his "House Divided" speech, Illinois Gov. Bruce Rauner opened the weekend's activities, declaring that Lincoln returned to Springfield a hero for saving the nation and setting its future course.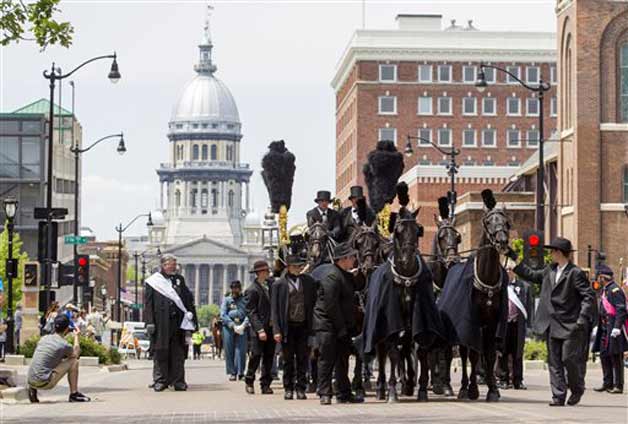 "His legacy has withstood the test of 150 years, and our love for him has only grown stronger," the Republican said.
The re-enactment brought onlookers from far and wide, including many men donning top hats and women in hoop skirts carrying parasols. Even a century-and-a-half later, some felt compelled to attend.
It was a natural place to be for Noah Vaughn, a Springfield native steeped in Lincoln from childhood visits to the Civil War battlefield at Gettysburg National Park and Ford's Theater in Washington, D.C. where Lincoln was fatally shot.
"Lincoln is just a big part of our lives," said Vaughn, who was at the train station with his wife, Megan, and daughters Klaire, 8, and Kennedy, 5. "This is about his legacy and honoring everything he meant to our country and what he means to Springfield."