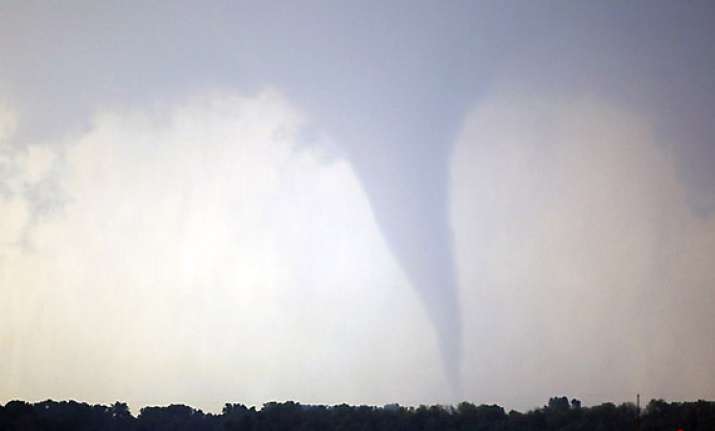 Oklahoma City, Apr 15:
Tornadoes erupting across the Midwest and Plains left five people dead and at least 29 injured in Oklahoma and damaged houses, a hospital, a jail, a U.S. Air Force base and other buildings elsewhere during a weekend outburst of severe weather, U.S. authorities say.
Oklahoma emergency officials said five people died after a tornado touched down at 12:18 a.m. Sunday in and around the northwest Oklahoma town of Woodward, the high winds damaging homes, toppling trees and downing power lines in that area about 140 miles northwest of Oklahoma City. The brunt of the damage was reported on the west side of the town of about 12,000 and its outskirts, where search teams scoured the rubble for hours for any still trapped or injured.
Storms also were reported in Kansas, Iowa and Nebraska as a severe storm system raked its way across the nation's midsection Saturday and Sunday. Lightning, large hail and heavy downpours accompanied the system.
Oklahoma Department of Emergency Management spokeswoman Keli Cain said the state medical examiner's office confirmed five fatalities in the Woodward area early Sunday. She said she didn't know the gender or age of the victims or details of their deaths but several homes were damaged. More than 8,000 customers were without power in the region.
Dave Wallace, chief executive officer of Woodward Regional Hospital, said 29 people, five of the in critical condition, were brought to the hospital for treatment of injuries ranging fractures and serious injuries to cuts and bruises. Three patients have been transferred to other hospitals and four were admitted, he added.
"We transferred them to a hospital with a higher level of care," Wallace said. "We're not a trauma center."
A deputy director in Cain's office, Michelann Ooten, told AP that emergency crews remained very much in search and rescue mode at first light, hours after they began operations in darkness.
"They're still going door to door and in some cases there are piles of rubble and they are having to sift through the rubble," she told AP. "They are trying to identify if anyone is still in there, trying to account for everyone."
The Storm Prediction Center in Norman, Okla., which specializes in tornado forecasting, had warned of a "high-end, life-threatening event" nearly two days before the bad weather hit. It was just the second time in U.S. history that the center issued a high-risk warning more than 24 hours in advance. The first was in April 2006, when nearly 100 tornadoes tore across the southeastern U.S., killing a dozen people and damaging more than 1,000 homes in Tennessee.
National Weather Service forecasters also had issued somber outlooks that the worst of the weather in the Midwest and Plains would hit in the nighttime hours, predicting that conditions were right for exceptionally strong tornadoes. Emergency management officials had worried most about what would happen if potent storms hit when people were sleeping, not paying attention to weather reports and unlikely to hear warning sirens.