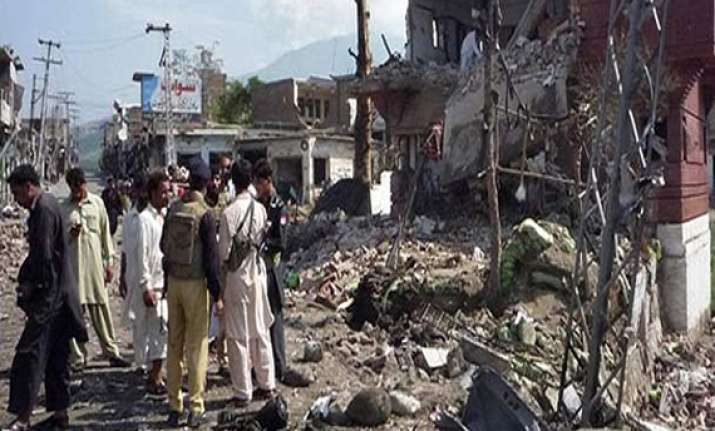 Islamabad, Jan 11: Thirty-five people were killed and over 60 others injured when a powerful bomb blast ripped through a crowded market in the restive Khyber tribal region of northwest Pakistan on Tuesday, officials said.  

The remote-controlled bomb was planted in a pick-up truck that was parked at a stand for trucks and buses at the market in Jamrud, one of the main towns of Khyber Agency.  

All persons sitting in the truck were killed instantly when the bomb went off, witnesses said.  Officials of the political administration told the media that 35 people had died in the attack.  

The dead included two children and three policemen.  

Persons with serious injuries were taken to Peshawar city, the capital of Khyber-Paktunkhwa province.  

The blast damaged a petrol pump, nine shops and 15 vehicles.

Reports said members of an anti-Taliban militia were passing through the market at the time of the explosion.  

No group claimed responsibility for the attack.  

Several militant groups, including the Tehrik-e-Taliban Pakistan and Lashkar-e-Islam, are active in the region.
 
Local residents said the attack may have been carried out by the Lashkar-e-Islam as most of the victims were members of the Zaka Khel tribe, which is opposed to the banned militant group led by Mangal Bagh Afridi.