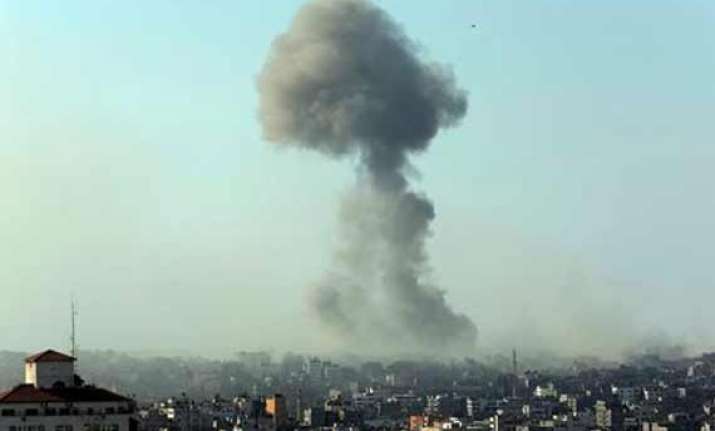 Gaza/Jerusalem: At least 90 Palestinians were killed today, including 20 at a UN-run school, in fierce fighting between Israel and Hamas in Gaza and the death toll sharply rose to 1,321 despite the Jewish nation agreeing to observe a four-hour humanitarian pause.  
Israel continued to pound Gaza from air, land and sea overnight. At least 15 people were killed and more than 150 wounded in the latest Israeli airstrike on a crowded shopping area in the southern city of Khan Yunis.  
The most devastating attack occurred earlier in the day when two shells hit the UN school where many Palestinians had taken shelter after fleeing from their homes following Israeli warnings.
At least 20 people were killed and 90 others injured in the incident.
"The shell struck Abu Hussein school in Jabaliya, which was sheltering hundreds of newly-displaced Palestinians," Abu Ali, a local resident, told PTI.
At least 90 Palestinians were killed and over 260 injured in Israeli attacks today, Gaza officials said.  In total, 1,321 people in Gaza have been killed and more than 7,350 have been wounded since the conflict between Israel and Hamas began on July 8, they said.  The attack on a UN school in Gaza was second in a week.  
Last week, 16 people were killed and hundreds wounded when another school in northern Gaza was hit.  Bob Turner, the UN Relief and Works Agency (UNRWA) Gaza director, said that the attack on the school in the Jabaliya refugee camp came without warning.
The head of UN agency for Palestinian refugees condemned the attack on the school.
"I condemn in the strongest possible terms this serious violation of international law by Israeli forces," said UNRWA commissioner General Pierre Krahenbuhl.  Israel, which has accused the militant group Hamas of using schools as bases to launch rockets, said it was investigating the reports.
The Israeli military had "ruled out" that it was responsible for the attack, saying a single "errant" shell had landed in an empty courtyard.
The attack came a day after one of the bloodiest days in the fighting between Israel and Hamas in which more than 100 people were killed.
Israel Defence Forces (IDF) today said that it had targeted "75 terror sites" in the Gaza Strip overnight.  The current conflict is now the longest between Israel and militants from Gaza. The longest so far was 22 days in 2008 when Israeli army also entered Gaza "to destroy terrorist infrastructure".
Announcing the four-hour humanitarian pause, IDF Chief of Staff Lieutenant General Benny Gantz said, "The lull will not apply to areas where the Israeli army continues to operate in search of tunnels."
But Hamas said it had not so far agreed to any new truce.  "When we have an Israeli commitment... on a humanitarian truce, we will look into it," spokesman Sami Abu Zuhri said.  The Israeli security cabinet will meet to discuss an Egyptian proposal for a ceasefire.
Israel stepped up the intensity of its strikes yesterday after a brief pause on Monday, saying it had hit a number of tunnels dug by militants to infiltrate and attack the country. 
Prime Minister Benjamin Netanyahu also warned people to get ready for a prolonged war after rockets continued to land in Israel from Gaza.
At least 10 Israeli soldiers were killed on Monday, five of them in an attempted infiltration by militants into Israel via a cross-border tunnel from Gaza, raising the number of Israeli soldiers killed to 53 since the start of Operation Protective Edge on July 8. Three Israeli civilians have also died.
International efforts have so far failed to get Israel and Hamas to agree to a truce and start negotiations.  Hamas yesterday rejected a fresh ceasefire proposal put forward by the Palestinian Authority that called for a 24-hour truce that could be extended to 72 hours.