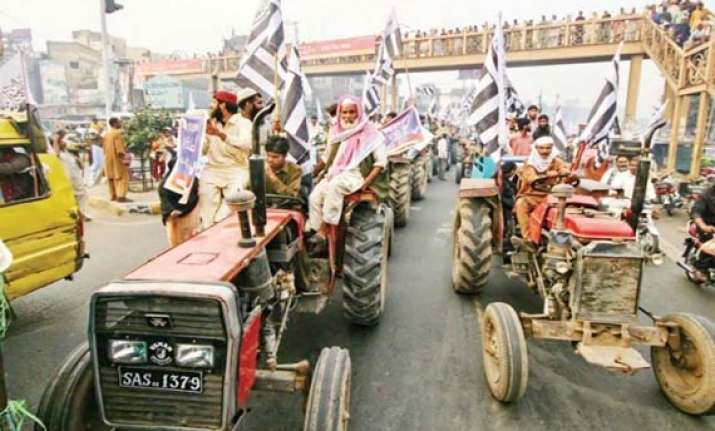 Lahore, Nov 25 : Jamaat-ud Dawa (JuD), the banned group behind the Mumbai terrorist attack of November 2008, staged a rally here on Thursday demanding that the government withdraw its decision to grant India most-favoured nation (MFN) status as a trading partner, The Express Tribune reported.

Hundreds took part in the 'Istehkam-i-Pakistan Karwan' rally from Minar-i-Pakistan to Nasser Bagh.

They included tractor trolley-riding and shovel-wielding farmers from the JD farmer's wing, lawyers and Jamaat-i-Islami leaders.

Addressing the protesters, various speakers accused India of committing atrocities in Kashmir and said the government should not move to normalise ties until the Kashmir issue had been resolved.

JD leader Professor Hafiz Abdul Rehman Makki said the government had granted India MFN status on America's instructions.

He accused President Asif Zardari of compromising with India over the deaths of hundreds of Muslims in Kashmir. He said Indian spies would enter Pakistan and continue the work of Raymond Davis.

"India has taken hold of Pakistan's five rivers and the Pakistani government has declared it a most-favoured nation," he complained.


JD Hurmat-i-Rasool convener Maulana Ameer Hamza said JD would not allow India to transform Pakistan into a barren land.

He said Pakistanis hated India and wanted revenge against it, so they would never accept it as a favoured trading partner.

Former Lahore Bar Association secretary Abdul Latif Sarra said the government should not grant India MFN status. He said Pakistani lawyers were with the JD against India and would not rest till Kashmir was free.

JUI-Sami leader Makhdoom Manzoor Ahmed, Ahle Sunnat Wal Jamaat secretary general Maulana Muhammad Akram and Jamaat-i-Islami leader Amirul Azeem also addressed the protesters.

The rally held under the aegis of Jamaat-ud-Dawah's Farmers Wing was also participated in by various religious leaders from other parties and joined by farmers from all over Lahore and its suburbs who were marching on foot and raising slogans against India and Pakistani rulers.

Farmers had decorated their vehicles with banners, buntings, posters and placards against India. Hundreds of national flags and flags of Jamat-ud-Dawa fluttered in the air while angry protestors also set ablaze Indian flag.

The protestors were led by Jamaat-ud-Dawah Central Leader Maulana Abdul Rehman Makki, Maulana Ameer Hamza, Chairman Tehreek-e-Azadi Jammu Kashmir Hafiz Saif-ul-Allah Mansoor, Ex Secretary Lahore Bar Council Abdul Latif Sara, Jamiat Ulema Islam (S) Leader Makhdoom Manzoor Ahmad, Ameer Jamat-e-Islami Lahore Ameer-ul-Azeem, Secretary General Ahle Sunnat Wal Jamaat Maulana Muhammad Akram Tofani, Chairman Jamaat-ud-Dawah Kisan Wing Muhammad Ashfaq, Maulana Hasnain Siddique, World Islamic Movement Chairman Sh. Mazhar Shafi, Hafiz Khalid Walid, Maulana Muhammad Idrees Farouqi and Chaudhry Muhammad Younas.