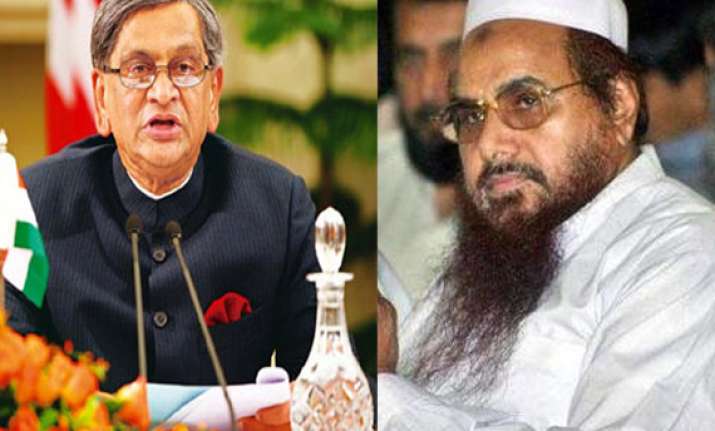 Islamabad, Jan 24 :  Jamaatud Dawa (JuD) chief Hafiz Saeed has warned the Pakistan government that it will have to face 'jihadi' consequences if the Most Favoured Nation (MFN) status is granted to India.

Addressing a large rally at Liaquat Bagh in garrison city Rawalpindi  in the presence of armed police personnel, Saeed, the mastermind of 26/11 Mumbai attacks said: "I tell you that an aggressive movement will be launched if any interest of sacred land (Pakistan) is compromised for India." .

Chief of the JuD faction Jamiat Ulema-i-Islam, Maulana Samiul Haq, took an oath from the participants that the Islamists would surround the parliament if the government reopened NATO supply routes.

"Jehad against the US aggressors will continue in Afghanistan till the American forces are forced to retreat back," the Maulana said.

Former ISI chief Hamid Gul said, "The leaders of the country should see that those who had been banned and persecuted for 10 years are now at the forefront to defend the country."

"The decision taken by our leaders to please the Americans has only caused sufferings for Muslim nation in Iraq, Afghanistan, Pakistan and elsewhere," he added.

Workers of  banned militant groups openly took part in the rally. A reception stall was set up by Ahle Sunnah wal Jamaat, showcasing its old name Sipah Sahaba Pakistan (SSP) that has been banned.

PTI adds: In Delhi,  External Affairs Minister S M Krishna said  he  was not "surprised" over the remarks made by Jamaat-ud-Dawah chief Hafiz Muhammed Saeed.

"We don't comment on irresponsible remarks emanating from Pakistan. We don't want to dignify by responding to such remarks which are irrational and which are not at all helpful.
We are not surprised," external affairs minister SM Krishna said when asked to react to Saeed's remarks.

Noting that India is a greater threat to Pakistan than the US, Saeed had said "the Pakistan government is conspiring with the US to give in to Indian supremacy (in the region). Granting the MFN-status to India is part of that plan. We must oppose this."