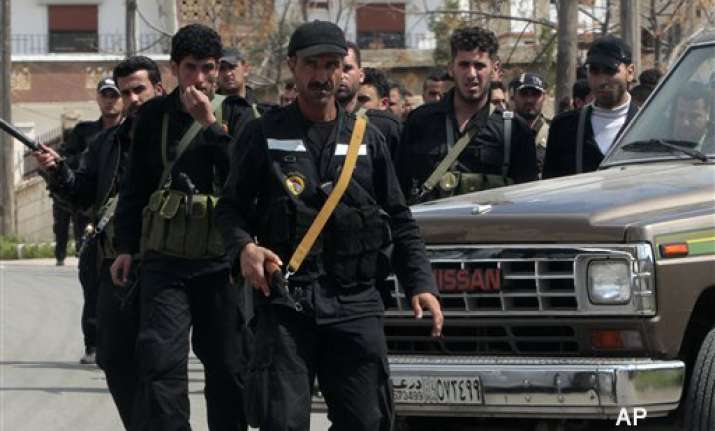 Damascus, Apr 8: At least 22 protesters were killed today as anti-regime demonstrations and clashes with security forces raged around Syria, the head of the National Organisation for Human Rights said.

"We have the names of 17 demonstrators killed in Daraa, and we have been told of the deaths of two protesters in Homs and three in Harasta," Qurabi told AFP by telephone from Cairo, where he lives in exile.

"We are aware that live bullets, tear gas and another gas that causes fainting were used," he added.  Qurabi's report was more or less in line with other activists, who earlier said 13 protesters had been killed in the flashpoint southern town of Daraa, a number of people wounded in the central industrial city of Homs and also spoke of fighting in Harasta.

The official SANA news agency said 19 members of the security forces were killed and 75 were wounded by "armed groups" in Daraa.

"According to an interior ministry source, there were 19 martyrs among the police and security forces and 75 wounded by armed groups which used live ammunition in Daraa," the agency said.

Amnesty International said it had confirmed eight people were killed in protests on Friday, six in Daraa and two in Homs in the west.

"The alarming reports coming from Syria today show that the authorities have not altered their violent methods for dealing with dissent," said Philip Luther, Amnesty's Deputy Director of the Middle East and North Africa Programme. 
An activist asking not to be named for security reasons told AFP the people in Daraa were killed when security forces opened fire with rubber bullets and live rounds to disperse stone-throwing protesters.

"Thousands of demonstrators leaving from three mosques marched to the courthouse but security forces dressed in civilian clothing fired tear gas to disperse them," said the activist.

"Demonstrators threw stones and clashes ensued," the activist said, adding that "the situation is very tense" in Daraa, some 100 kilometres (60 miles) south of Damascus. 
Protesters angered by the deaths set fire to the ruling Baath party's headquarters in Daraa, he added.  State television said "saboteurs and conspirators opened fire on residents and security forces" alike in the town, killing two people -- an officer and an ambulance man.  State television broadcast footage showing young men in keffiyehs standing behind trees while the sound of automatic weapons fire could be heard. (AFP)