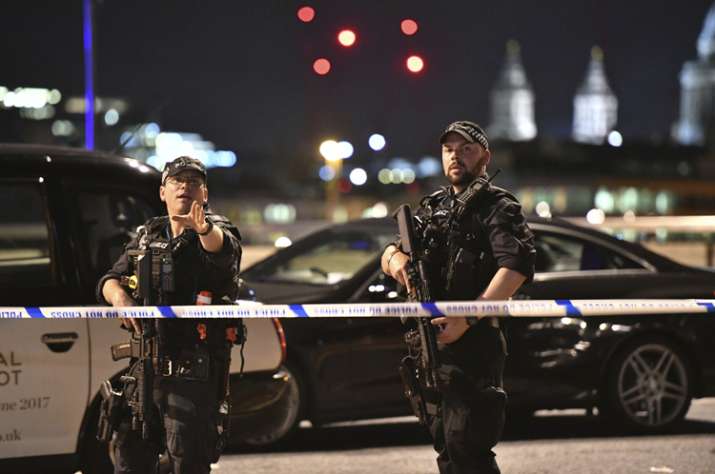 At least six people were killed and 20 others were injured in the terror attacks in the heart of London on Saturday in which police shot dead three suspects. The attack that comes just days ahead of the general election on June 8 targeted central London landmarks of London Bridge and Borough Market. 
The Metropolitan Police's head of counter-terrorism Mark Rowley said early Sunday that police believe all the attackers were killed but are conducting further investigation to make certain this is the case.
Rowley says the suspects were confronted and shot by police "within eight minutes of the first call."
Here is what we know so far about London terror attack: 
Metropolitan police have said that it began to receive reports that a vehicle had struck pedestrians on London Bridge at 22:08 BST.
The vehicle - a white van – was probably driving at about 50 mph and veered off the road into the crowds of people who were walking along the pavement.
The vehicle continued to drive from London Bridge to Borough Market
The suspects then left the vehicle and a number of people were stabbed.
Among the people who were stabbed was an on-duty British Transport Police officer who was responding to the incident at London Bridge. He received serious but not life-threatening injuries. 
Armed officers who responded to the incident shot and killed three male suspects in Borough Market. 
The suspects had been confronted and shot by the police within eight minutes of the first call. 
The suspects were wearing what looked like explosive vests but police later said they were hoaxes.
Six people have died in addition to the three attackers shot dead by police. 
London's Ambulance Service said more than 30 people were taken to hospitals for treatment and a number of other patients were treated for less serious injuries in the center of the city.
The attack is being treated as a "terrorist incident" and a full investigation is underway, led by the Metropolitan Police's Counter Terrorism Command.
No group has so far claimed responsibility for the attack
If confirmed as terrorism, this would be the third attack to hit Britain in as many months.
Also Read: London terror attack: Trump offers to help UK, argues for travel ban as 'extra level of safety'