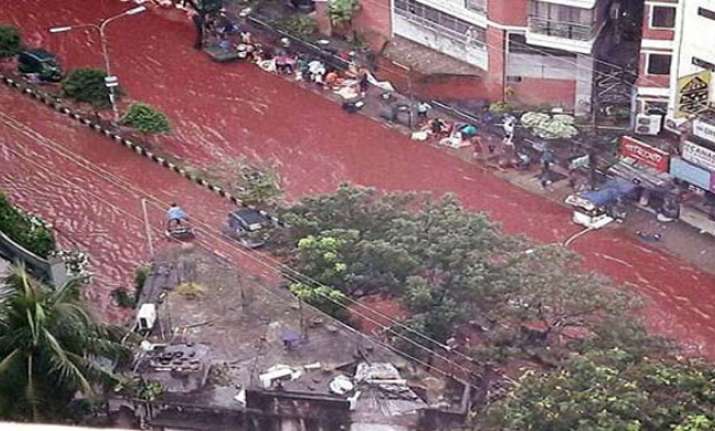 Amidst the celebration of Eid al-Adha, citizens of Dhaka witnessed a terrifying sight as blood streams ran across the streets in the city.
Intermittent rains since early in the morning had led to water logging in many areas because of the poor drainage system in the city. The blood of the animals slaughtered for the 'kurbaani' got mixed with rain water, which in turn led to the disturbing scene.
It is reported that the weather forecast by the meteorological department had already warned everyone about heavy rainfall on the festival.
Despite the intermittent showers, citizens thronged mosques, offered prayers and proceeded with the ritualistic goat sacrifice.
Although the two major cities in Dhaka were allotted 496 and 504 spots respectively for slaughtering animals, several people were seen performing animal sacrifices on streets.
"I felt I was walking through a post-apocalyptic neighbourhood. To be honest, I was scared. It was an image of mass violence that shouldn't ever be experienced," Atish Saha, a Dhaka-based artist, was quoted by The Guardian as saying.
Dhaka residents strongly criticised the two city corporations for the faulty drainage system.
Here are some pictures of the gory scene shared by Dhaka citizens on Twitter: 
Rain and animal sacrifices for #Eid lead to an unsettling sight: Rivers of blood in Dhaka https://t.co/5HkpIulkwM via @DhakaTribune

— Jareen Imam 🔥 (@JareenAI) September 13, 2016
#Dhaka is this the way u celebrate your festival #eid ?? I feel sick seeing this 😢 #EidMubarak pic.twitter.com/xhcssUXdvi

— Midhul (@iammidhul) September 13, 2016