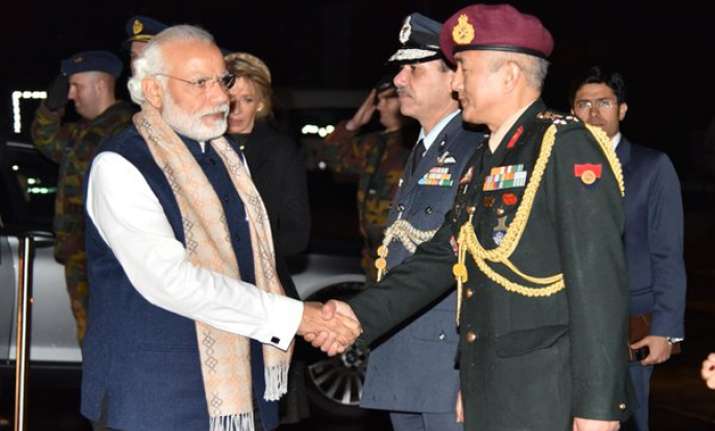 Brussels: Wrapping up his visit to Belgium, Prime Minister Narendra Modi today left for Washington where he will attend the Nuclear Security Summit as part of his three-nation tour.
"Thank you Brussels! An intense day of diplomacy ends as PM @narendramodi emplanes for Washington DC," MEA Spokesperson Vikas Swarup tweeted.
Modi will attend the Nuclear Security Summit in Washington today and tomorrow and from there he will travel to Saudi Arabia on a two-day visit with a focus on boosting energy and security cooperation.
Briefing the media, along with Swarup in New Delhi on Tuesday, over the Prime Minister's US visit, Joint Secretary (Disarmament & International Security Affairs) Amandeep Singh Gill said the summit would begin with the leaders-only dinner at the White House on March 31, where leaders of 53 countries and four international organisations that participate at the summit would gather at this working dinner to share their assessments of the threat of nuclear terrorism.
In Brussels, Modi attended the 13th India-EU Summit and held bilateral talks with his Belgian counterpart Charles Michel. He also addressed the Indian diaspora here before leaving for Washington and appealed countries to fight against terrorism.
Terming terrorism as a challenge for humanism, Modi condemned the recent terror attacks in Brussels and said that the world has come to know what is terrorism. The Prime Minister said that 90 countries suffered from terrorism last year.
He also said that India never bows down against terrorism and there is no question that India will tolerate it. Modi further said that no religion taught terrorism and terrorism should be de-linked from the religion.
With PTI Inputs