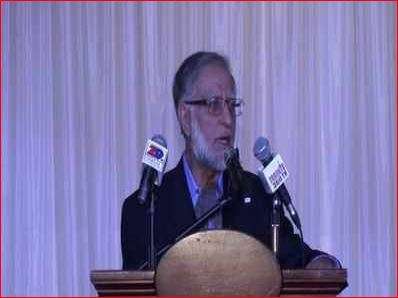 In a clear vindication of India's stand that the United Nations report on Kashmir was biased and unfair, Canada-based Pakistani Imam Zafar Bangash has confessed that Zeid Ra'ad al-Hussein, United Nations High Commissioner for Human Rights (UNHCR) who authored the Kashmir report, was in constant touch with him while preparing the report.
Toronto-based Zafar Bangash is an Imam at the Islamic Society of York Region's mosque.
The UNHCR report on Kashmir had criticised India and Pakistan over the alleged human rights violations in Jammu and Kashmir as well as Pakistan-occupied Kashmir (PoK). Later, India had strongly rejected the report and declared it biased.
Zafar Bangash disclosed that he had personal correspondence with the UNHCR in this regard. The Pakistani Imam also revealed that he had lobbied with Pakistani officials on behalf of the UNHCR.
"I can say it to you, and I say it with all humility, but with great pride that we 'The Friends of Kashmir' also have a role in the production of this report. In fact, I had personal correspondence with the High Commissioner for Human Rights, e-mail correspondence in which he responded to my personal letter and e-mail saying that he would like to have access to both sides of Line of Control," Zafar Bangash said while speaking at a conference on Kashmir in Canada's Mississauga.
"I responded to him (Zeid Ra'ad al-Hussein) after speaking to the Foreign Office spokesperson in Pakistan, Nafees Zakaria, who used to be the Consul General in Toronto and he assured that Pakistan would welcome the UN High Commissioner and their representatives to Pakistan and they will facilitate their visit." Zafar Bangash added.
Reacting angrily to Pakistan's reference to a UN report on Kashmir at the Security Council, India again on Tuesday said the "so called" report reflects "clear bias" and was not even found fit to be considered by the members of the human rights body where it was submitted. 
Pakistan raked up the issue of Jammu and Kashmir at a UN session on Monday, the third time it did so in as many weeks. 
India hit back, saying there has been yet another attempt by Pakistan to misuse the UN forum by referring to situations that are extraneous to the discussions. 
Pakistan's Permanent Representative to the UN Maleeha Lodhi referred to the June 14 report on Kashmir and Pakistan-occupied Kashmir by UN High Commissioner for Human Rights Zeid Ra'ad Al Hussein during a Security Council debate on Children and Armed Conflict. 
India's Deputy Permanent Representative to the UN Ambassador Tanmaya Lal, in a scathing reply, said the "so-called" report about the Indian state of Jammu and Kashmir reflects the "clear bias of an official who was acting without any mandate whatsoever and relied on unverified sources of information.
Reacting to Zafar Bangash's confession, the ruling BJP on Tuesday said the UN report on Kashmir was a "nefarious conspiracy" designed by Pakistan.
"Confession of the Canada-based Pakistani Imam, Zafar Bangash, shows that this report was in fact a nefarious conspiracy designed by Pakistan foreign office," BJP spokesperson Sambit Patra said in a statement. 
"Pakistan stands exposed yet again.We had seen how Pakistan previously showcased fake photographs in UN on Kashmir and was rebuked by the UN. The stand of the Indian government is validated today," he added.
Patra also demanded an apology from the people, including senior Congress leader Ghulam Nabi Azad, who were blaming the government for "deteriorating" situation in Jammu and Kashmir.
(With agency inputs)