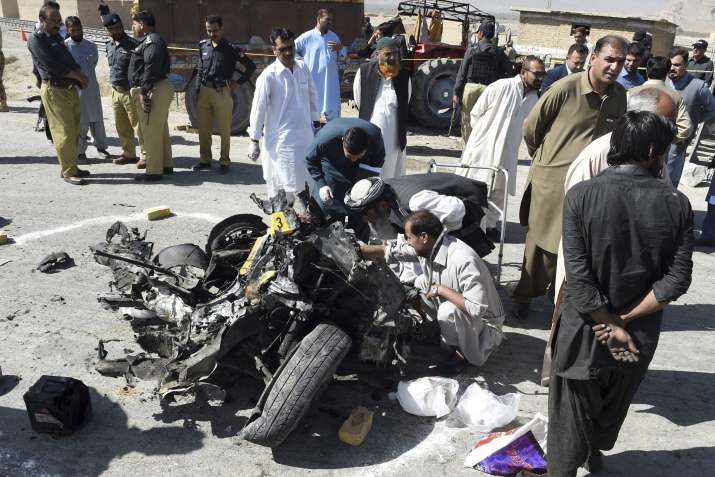 At least seven persons, including six policemen, were killed today when Pakistani militants targeted police van in the restive Baluchistan's capital Quetta, police said. Security sources said a roadside bomb exploded just as the police vehicle carrying 35 police personnel passed the Sariab Mill area on the Quetta-Sibbi Road. 
Baluchistan's Home Minister Mir Sarfaraz Bugti said six policemen had been killed in the terror attack in which the truck carrying policemen was the target. 
"A forensic team is reaching from Lahore and will determine whether it was a suicide bomb attack or whether explosives were detonated close to the vehicle," Bugti said. 
He said while seven people, including a civilian, were killed on the spot, 24 others had been moved to the Civil Hospital in Quetta for treatment. 
"The war against terrorism is not over. Balochistan is on the forefront of this fight and we will not stop until there is not a single terrorist left in the area," the home minister added. 
Security forces have reached the location and cordoned off the area, and a security sweep is underway, he said. The Tehreek-i-Taliban Pakistan claimed responsibility for the attack. 
Senior police official, Razzak Cheema said a car with explosives was apparently rammed from behind into the truck. "It appears that 80 kilograms of explosives were used in the attack," Cheema said. 
In a separate incident, Police Inspector Abdul Salam was shot dead on Quetta's Qambrani Road, in what security sources claim was a targeted killing. 
Balochistan has experienced incidents of violence and targeted killings for over a decade. In recent months, the province has faced a number of security challenges, with security personnel in the province often being targeted in roadside explosions and suicide attacks. 
Fifteen people, including eight soldiers, were killed when a suicide bomber targeted a military truck near the Pishin bus stop in Quetta on August 13. 
Earlier in June, 14 people - including seven policemen -lost their lives in a suicide blast that shook Shuhada Chowk in Quetta's Gulistan Road area.