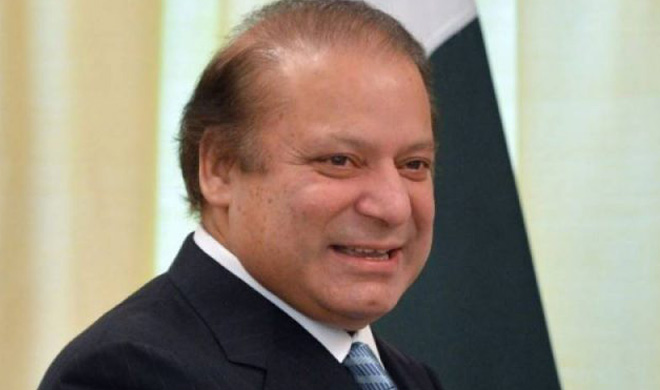 Pakistan's ousted prime minister Nawaz Sharif  on Friday appeared before an anti-graft court which adjourned till November 7 the hearing of corruption cases against him, his daughter and son-in-law spiralling from the Panama Papers scandal.
Sharif, 67, and some of his family members are facing charges relating to their ownership of properties in London. He resigned as prime minister in July after the country's Supreme Court disqualified him over undeclared income. Three cases were registered by the National Accountability Bureau (NAB) on September 8 against Sharif, his children and son-in-law in the Accountability Court Islamabad, following a verdict by the Supreme Court.
Sharif, who returned home from London on Thursday, appeared in the court along with legal team. He had gone to London last month to be with his ailing wife Kulsoom Nawaz who is battling throat cancer.
His daughter Maryam and her husband Muhammad Safdar also were present during today's hearing.
At the start of the hearing, the defence asked the accountability judge to consider the verdict of the Islamabad High Court (IHC), which yesterday ordered the accountability court to hear again the plea that Sharif's three cases should be clubbed together.
The anti-graft court last month rejected an application by Sharif that since all three cases deal with assets beyond means, so they should be taken up as a single case.
The decision was challenged in the IHC which referred the case to the Accountability Court with an order to re-hear it. However, the IHC did not issue detailed verdict and Sharif's lawyer asked the court to adjourn the hearing till a comprehensive judgement.
The court then adjourned the hearing till November 7. Sharif told the media that he was victimised. He also said that Pakistan Peoples Party leader Asif Ali Zardari was speaking against him "to please someone".
"I don't have to say anything as the present situation and actions are in front of everyone," he said.
Heavy security arrangements were made around the judicial complex today to deal with any untoward situation. Sharif was indicted in absence in three cases. Maryam and Safdar have been indicted in one case with him, while the court is proceeding separately against his two sons Husain and Hasan who are co-accused in three cases.
The court during the hearing on October 9 decided to separate the trial of his sons from Sharif and his daughter and son-in-law.
The cases are based on July 28 disqualification verdict of the Supreme Court and to launch three corruption cases against him, his family, and one case against Finance Minister Ishaq Dar.
The political future of Sharif, who leads the country's most powerful political family and the ruling PML-N party, has been hanging in balance since then. If convicted, Sharif can be jailed.
Sharif's family alleges that the cases are politically motivated.