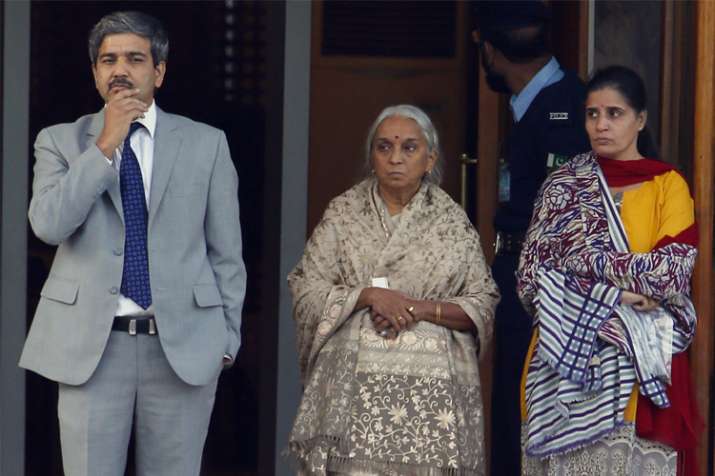 Pakistan's foreign ministry seems to have been pleased by the humiliating treatment meted out to Kulbhushan Jadhav's mother and wife in Islamabad, followed by the taunts hurled out at the two women by some its media.
According to some Pakistani scribes, the country's foreign ministry reportedly sent a thank you note to the journalists for a "job well done". 
Hassan Belal Zaidi, a senior journalist with Dawn newspaper, tweeted that the dishonourable heckling of Jadhav's mother and wife was a pre-planned conspiracy by Pakistan's foreign affairs ministry (MOFA) office, following which it even thanked the scribes saying that the job was well done. 
A video viral on social media shows Jadhav's wife and mother were first humiliated by the Pakistani media outside the MOFA building and then at the Benazir Bhutto International Airport in Islamabad.
As the two women came out of the MOFA building in Islamabad after the meeting on Monday, one of the journalists asked Kulbhushan's mother, "Aap ek dahashatgard ki maa hain, kya kehna chahti hain iss baare mein? (You are the mother of a terrorist, how does it feel?)" 
"Aap ka beta sainkdo Pakistaniyon ka qatil hai, aap jawab den, aap bhag kyun rahe hain? (Your son has butchered hundreds of Pakistanis, we need answers, why are you running away?)," was another derogatory question hurled at her. 
The ill-treatment by Pakistani scribes was condemned by some of their press colleagues. 
Taha Siddiqui, Pakistani bureau chief of WION News, said that he was disgusted by what some journos did, terming it "shameful". 
Another scribe Benzair Shah said she had no words to describe the journalists who showed their "patriotism" by heckling a 70-year-old woman. 
Tearing into Pakistan for humiliating Jadhav's mother and wife in Pakistan, External Affairs Minister Sushma Swaraj today said that the meeting lacked "humanity" and "goodwill", and accused Islamabad of conducting it as a "propaganda exercise" and "an opportunity to exploit the situation".   
Addressing the Upper House of Parliament, Swaraj condemned the way the Pakistani authorities allowed the meeting at the Foreign Office in Islamabad and asked them to change their clothes and shoes, and remove bangles and even their "mangalsutras".
"The first thing that Kulbhushan asked his mother was 'what happened to father' after he saw no mangalsutra on his mother.
"The manner in which the meeting was organised was appalling. Their clothes, shoes, bangles and even their mangalsutras were taken away. Their human rights were violated again and again, and an environment of fear was created for them," Sushma Swaraj said, a day after Opposition members expressed outrage over the treatment meted out to Jadhav's family.
She said it was absurd on behalf of Pakistan to suggest there was a mystery chip or camera or recording device planted inside Kulbhushan's wife's shoes. "It is an absurdity beyond measure."
During the meeting in Islamabad on December, not only were the two women forced to speak with a glass barrier separating them from Jadhav, but were also forbidden to speak in Marathi. Jadhav's wife's footwear was not returned to her either.