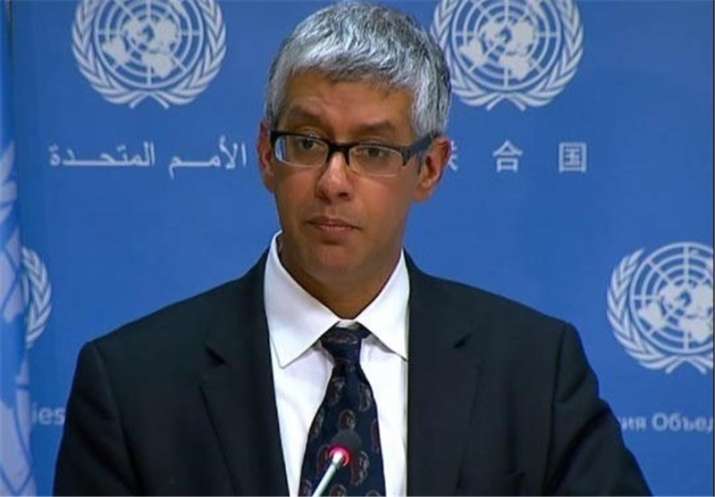 The United Nations on Thursday clarified that India was not preventing the United Nations Military Observer Group in India and Pakistan (UNMOGIP) from presenting its reports on ground situation.
UN Secretary-General Antonio Guterres' Deputy Spokesperson Farhan Haq also denied that the role of UNMOGIP was being constrained by India.
Responding to a question of a Pakistani journalist who asked whether the reason, UNMOGIP does not present its reports, was because the Indian government does not allow them to, Farhan Haq said, "No, no. I am sure you are aware that different peacekeeping missions have different mandates and different reporting mandates. The earliest peacekeeping missions, which include UNMOGIP... come from a different era where they have completely different reporting requirements." 
According to the Security Council mandate given in resolution 307 of 1971, UNMOGIP observes and reports on ceasefire violations along and across the Line of Control (LoC) and the working boundary between the nuclear-armed South Asian neighbours in Jammu and Kashmir, as well as reports developments that could lead to ceasefire violations.  
India has maintained that UNMOGIP has outlived its utility and is irrelevant after the Simla Agreement and the consequent establishment of the LoC. The observer group is headed by Major General Per Lodin of Sweden. It currently has 38 military observers and 73 civilian personnel. 

 

The UN has concerns about the situation in Kashmir and continues to monitor the situation when pressed about Guterres not paying attention to the alleged human rights violation there and not talking to leaders from the two countries, Haq said. 
"The basic point is we have concerns about the situation in Kashmir. We do monitor the situation, we have different levels of contacts with the governments of India and Pakistan.  If there is anything further to say, we will let you know but at this stage this is one of the situations around the world that we do monitor with concern," he said.  
Haq said that just because the Secretary General is not visiting the region, it does not mean he is not paying attention to the issues. 
"He (Secretary General) can pay attention without necessarily visiting. Even when he does not visit countries though, he is aware of the problems there and we have many levels of officials including country-level officials who are there to deal with the various problems that arise," Haq added.
(With PTI inputs)