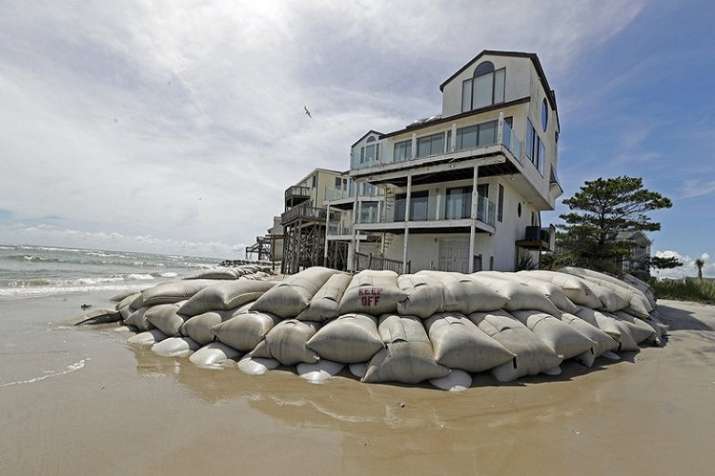 Hurricane Florence has weakened to Category 2 storm, however is still being considered as life-threatening and extremely dangerous. The National Hurricane Center on Wednesday said life-threatening storm surge and rainfall is likely in Carolinas as the storm approaches the coast on Thursday and Friday.
According to the forecasters, Hurricane Florence has weakened but continues being a catastrophic Category 3 storm as it heads towards North and South Carolina.
The storm was was centered 280 miles (455 kilometers) east southeast of Wilmington, North Carolina as on 11 pm and moved northwest at 17 mph (28 kph).
The maximum sustained winds of the storm have dropped slightly to 110 mph (175 kph).
A city in South Carolina, in the projected path of the hurricane has imposed curfew for the safety of residents. Similar curfews have been imposed in other coastal communities including Surfside Beach, officials said.
US President Donald Trump has cancelled campaign events in Missouri and Mississippi this week because of the impending hurricane.
Vice President Mike Pence has also cancelled his planned trip to Georgia on Thursday, in view of the updated track of Hurricane Florence.
A state of emergency was declared by the governor of Georgia after forecasts of new storm indicated more southerly threat to residents.
The governor also ordered evacuation of much of South Carolina's coast, as the storm is expected to come ashore in the Carolinas later this week.