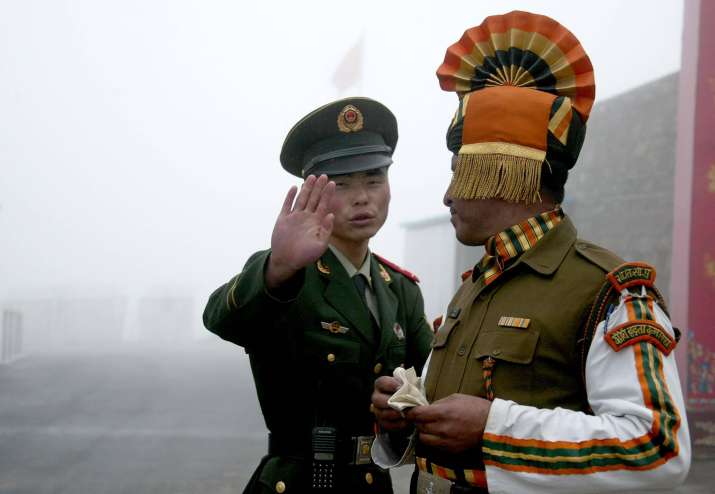 Amid the heightened tensions between the two nations over the two-month long military stand-off in the Sikkim sector, China on Monday laid the blame on Indian soldiers for "violent action" against its troops during a standoff at Pangong Lake in Ladakh on August 15 leading to scuffles and stone pelting, and has lodged a protest with India. 
Indian border guards had foiled an attempt by the Chinese soldiers to enter Indian territory in Ladakh, resulting in stone pelting that caused minor injuries to troops on both the sides. 
Chinese Foreign Ministry spokesperson Hua Chunying claimed that the incident occurred when Chinese border troops were conducting normal patrol on the Chinese side of the Line of Actual Control (LAC) around the Lake area on August 15. 
"During this process, the Indian side took some violent actions and injured the Chinese border personnel," she claimed. 
India says that the incident was discussed by the local army commanders of the two sides. 
Hua said "China has expressed strong dissatisfaction and lodged serious representation to India". 
The incident at the Pangong Lake happened amid a standoff between Indian and Chinese troops at the Doklam area in the Sikkim section which has now entered the third month.
Meanwhile, India's Home Minister Rajnath Singh today said he was hopeful that China will soon make a positive move to initiate a dialogue to end the stand-off in the Doklam region. 
"There will be a solution soon and I am sure China will make a positive move," Rajnath said here. He was speaking at a a function of the Indo Tibetan Border Police (ITBP) here. 
"I want to convey a message to all neighbouring countries that India wants peace,"  he further said. 
However, Singh made it clear that Indian security forces were capable of defending the country's territories. "Our security forces have all the power to protect Indian borders," he said.  
China has alleged that Indian troops illegally trespassed into the Chinese territory in Doklam and they should unconditionally withdraw to end the faceoff. 
Last week India said it will continue to engage with China to find a mutually acceptable solution to the Doklam standoff, but underlined that incidents like one in Ladakh were not in the "interest of either side".
(With PTI inputs)