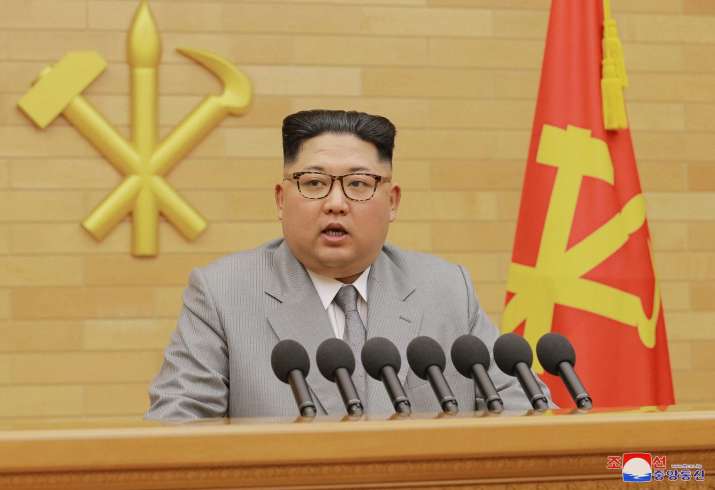 North Korean leader Kim Jong-un in his New Year's Day address said that United States can never dare to attack him or his country as it has completed its nuclear arsenal and he has the ignition button ready "always on" his desk.
Committing his country to further increasing the production of nuclear warheads and ballistic missiles for operational deployment, Kim also said that his country's nuclear forces have gained a powerful deterrent against the US and that Pyongyang's weapons were capable of hitting all of its mainland territory. 
The eccentric claims by the dictator of an isolated nation beg the serious question, can United States attack a nuclear-armed North Korea? 
The main agenda of United Nations Security Council, since its inception has been to deter use of another nuclear weapon ever again. Thus, the body is expected to stretch its limits to avert any such atomic war.   
Even as United States has been known to disregard the UNSC in the past, the country will have to tread lightly when it comes to North Korea as it has been verified that the North Korea has developed missiles that can reach mainland US.  
"Kim Jong-un is an eccentric person. Last year they did nuclear tests, they have built inter-continental missiles. Earlier they could only attack American bases situated in South Korea, Japan and Guam but now their missiles can reach the continental United States. Now America has to decided if it can live with a nuclear armed North Korea and take a careful decision to avoid nuclear war at all costs," defence expert Retd Col. GD Bakshi told India TV. 
Throughout 2017, North Korea intensified its weapons tests with the launch of about 20 missiles, three of which were intercontinental, and completed its sixth and most powerful nuclear test to date in September.
The regime's repeated weapons tests have triggered a record number of sets of UN sanctions against the Asian country, four in one year.
In his New Year's address, Kim urged Washington and Seoul to end their joint military manoeuvres, which the regime criticised as an attempt to invade its country, and extended his hand to Seoul, saying that North and South Korea must improve their relations.