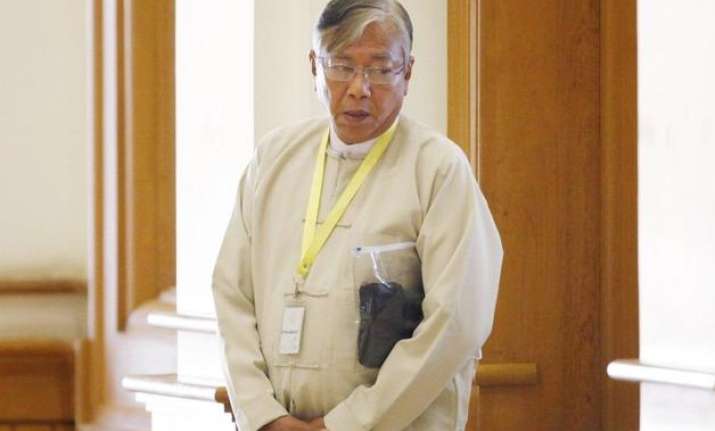 Naypyitaw (Myanmar): Htin Kyaw, 70, a longtime confidant and former driver of Aung San Suu Kyi, today become Myanmar's first democratically elected Present after more than half a century of military rule.
Suu Kyi led her National League for Democracy (NLD) to a landslide election win in November, but a constitution drafted by the former junta bars her from the top office.
On Thursday, the NLD nominated Htin Kyaw for the role. He runs a charity founded by Suu Kyi and has been a trusted member of her inner circle since the mid-1990s. He is not a lawmaker.
Htin Kyaw received 360 votes of the 652 cast, the parliamentary official counting the votes said on Tuesday.
The Oxford graduate was among three final candidates whose names appeared on the ballot.
Given the lawmakers lack of experience with voting, the Parliament Speaker opened the session by explaining how to vote.
"On the ballot paper, there are three names. If you support one of the names, you tick it — or if you object cross it out," Speaker Mann Win Khaing Than told the lawmakers. "That's how you have to vote. And then put it in the ballot box."
The Speaker called on lawmakers by row to come forward to cast ballots one-by-one at the front of the Parliament. Suu Kyi, sitting in the front row, cast her vote first, dropping her yellow piece of paper into a box with glass sides visible to all.
Myanmar's electoral system requires that the President be chosen from candidates put forward by each of the two Houses of Parliament, and a third nominee from the military, which retains a quarter of the legislative seats.
The candidate with the most votes becomes President and the other two become Vice Presidents. The other nominees were NLD lawmaker Henry Van Tio and the military's candidate, Myint Swe, a hard-line retired lieutenant general whose nomination raised concerns about the future of a power-sharing relationship with the NLD.