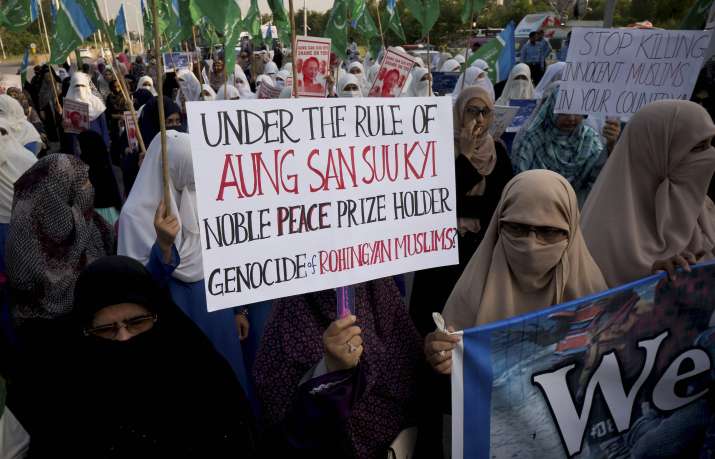 Al Qaeda militants have called for support for Myanmar's Rohingya Muslims, according to a recently published Reuters report.
"The savage treatment meted out to our Muslim brothers...shall not pass without punishment," Al Qaeda said in a statement, according to the SITE monitoring group. "The government of Myanmar shall be made to taste what our Muslim brothers have tasted."
"We call upon all mujahid brothers in Bangladesh, India, Pakistan, and the Philippines to set out for Burma to help their Muslim brothers, and to make the necessary preparation -- training and the like - to resist this oppression," the group said in a statement.
More than 370,000 minority Rohingya have fled to Bangladesh to escape violence since August 25, according to the United Nations, an average of almost 20,000 a day.
A clearance operation by Myanmar's military targeting the Rohingya intensified after 12 security officers were killed by militants in coordinated attacks on border posts.
Suu Kyi cancels trip to UN amid growing Rohingya crisis
Myanmar's de facto leader and State Counsellor Aung San Suu Kyi will not attend the upcoming UN General Assembly session in New York as criticism of her handling of the Rohingya crisis grows.
A spokesman for the Presidential office said on Wednesday she had called off her trip for two reasons. "One is the current situation in Rakhine State. We have terrorist attacks and also there are many works on public safety and humanitarian works," spokesman Zaw Htay said in a statement.
"And the second reason is we have received reports that there are possibilities of terrorist attacks in our country."
Suu Kyi had been expected to participate in discussions at the General Assembly session, which will run from September 19 to 25, BBC reported.
Suu Kyi has been repeatedly criticised over her response to the crisis, particularly given her previous work as a defender of human rights which won her the Nobel Peace Prize.