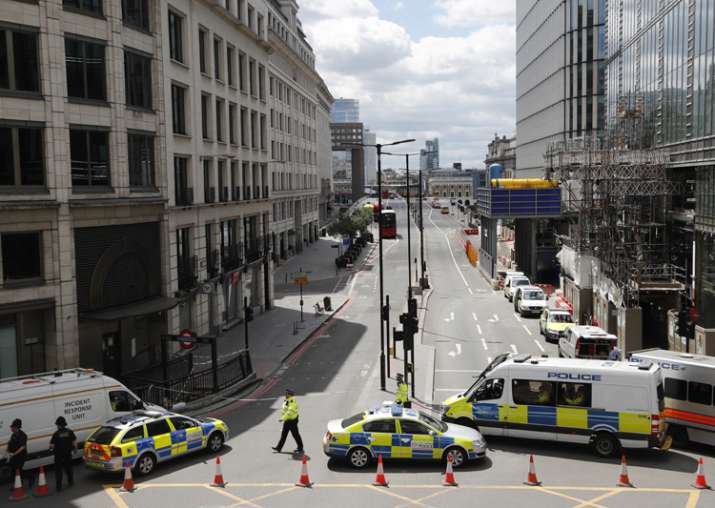 Twelve people have been arrested on suspicion of involvement in a terror attack in London which claimed seven lives before police shot dead three suspects, authorities said on Sunday.
Investigators raided several addresses in Barking, 14 km east of London Bridge where three men were gunned down after driving a white van into pedestrians and then stabbing people in a nearby market on Saturday night.
Nearly 50 people were injured in the terror attack which took place in the heart of London.
The Saturday horror took place when a white transit-style van speeding toward the London Bridge Tube station drove into a crowd of unsuspecting people including tourists enjoying the pleasant weather around 10 pm, sending one man flying some 20 feet in the air.
The vehicle continued to drive towards Borough Market, just south of the bridge, where three assailants got out and stabbed civilians at a restaurant as well as an officer from Transport Police.
One of the attackers was seen with a 'big knife' attacking men and women in the Borough Market whose pubs and restaurants were packed with people. Armed officers who reached the scene shot the suspects who wore fake bomb vests.
This was the third terror attack in Britain since March. On March 22, six people, including a lone attacker, were killed and at least 50 people were injured in a similar attack on Westminster Bridge near Parliament. Then came the Manchester bombing.
Meanwhile, British Prime Minister Theresa May  announced that the June 8 general election will go ahead as planned despite another terrorist attack in London as she blamed the 'evil ideology of Islamist extremism' for the three terror attacks in the country. 
Speaking outside Downing Street after she chaired the emergency COBRA meeting with senior security chiefs, May said, "Violence can never be allowed to disrupt the democratic process." 
She said "it is time to say enough is enough" as she condemned the terror attack on "innocent and unarmed civilians" on London Bridge and Borough Market area of the city, which left seven people dead and 48 injured in London. 
She said the recent terror attacks in Britain, while not directly linked, "are bound together by the single evil ideology of Islamist extremism." 
"It is an ideology that is a perversion of Islam and a perversion of the truth. Defeating this ideology is one of the great challenges of our time. We believe we are experiencing a new trend in the threat we face as terrorism breeds terrorism," she said. 
The Prime Minister further said that attacks are now inspired 'by copying one another and often using the crudest of means of attack'. 
She also revealed that the UK's security and intelligence services have disrupted five credible plots since the Parliament attack in London in March.