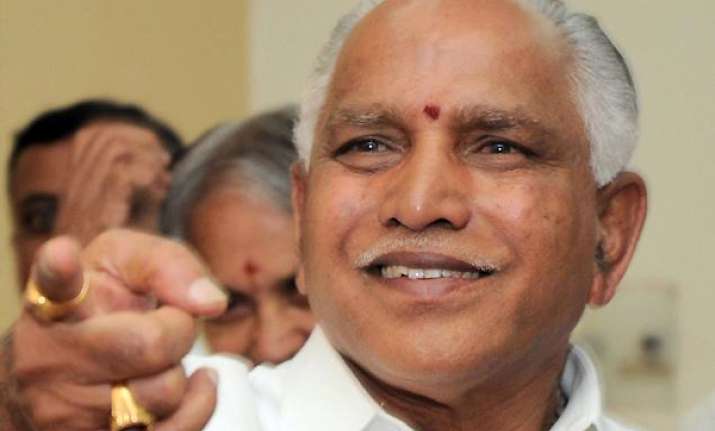 Bangalore, Oct 31: Karnataka High Court today adjourned to November 2 the bail appplications filed by former Chief Minister B S Yeddyurappa, remanded to judicial custody, in corruption cases against him.

Justice B V Pinto adjourned to November 2 for further hearing the bail applications moved by Yeddyurappa in the two land denotification cases in which he has been remanded to judicial custody till November 3.

The cases have been registered by Lokayukta police on private complaints by city advocate Sirijan Basha alleging that Yeddyurappa had denotified governments lands for the benefit of his family members.

Yeddyurappa, has moved the high court for bail after Special Lokayukta Judge N K Sudhindra Rao rejected his plea for the relief.

Opposing bail, senior counsel for the complainant C H Hanumantharaya charged Yeddyurappa with "misusing his position, abusing his office" by "ignoring and bypassing" the denotification committee to get a report which was "desirable and palatable to him".

He submitted the trial court had considered everything, scrutinised all records scrupulously before rejecting the bail application of the petitioner and remanding him.

"It (remand) was not an act done cursorily. It was consistently held by the trial court that a prima facie case was made out (against Yeddyurappa)", he stated.

Referring to the point raised by the petitioner's counsel that government lands were denotified by an earlier Chief Minister (H D Kumaraswamy) also, Hanumantharaya submitted "one illegality cannot be the licence for another illegality".

"The very abuse of his status, position, standing in the society to get something done for somebody, satisfies section 13 of the Prevention of Corruption Act and constitutes an offence", he submitted.

Quoting a Supreme Court order for refusing bail in corruption cases, Hanumatharaya said "there is greater danger of elimination of evidence through money power" in such cases.

He further submitted that in case bail was granted to the petitioner nobody would become an approver.