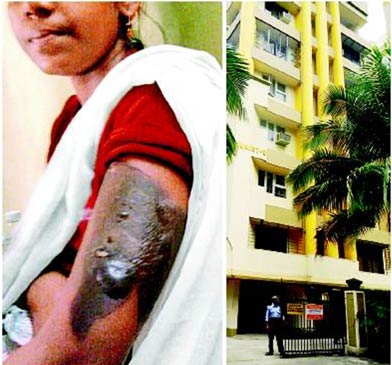 Mumbai, Nov 22: A woman in Powai beat her 13-year-old maid ruthlessly and scalded her with a hot iron, reports Mumbai Mirror. The Minochas, who stay with their daughter on the second floor of Sunset apartment, were furious over the maid's carelessness after their four-year-old daughter suffered minor burns after accidentally touching the iron.  
When  Madhurima Minocha returned home and saw her injured daughter, she decided to teach the maid a lesson.
"After ironing the clothes, I left the iron at one corner. Their daughter, who was playing around the house, accidentally touched the iron, which was still hot, and got hurt. At night, when her parents returned home, all hell broke loose," said the maid, who was brought to Mumbai from Bhopal by the Minochas four months ago.
"The girl's mother was furious. She asked me to switch on the iron again. I thought she wanted me to iron more clothes, so I did as I was told. As soon it got hot, she pressed it on my left hand," said the sobbing 13-year-old."After that, they beat me with a belt and rolling pin," she added. Then on Sunday morning, the girl's employer allegedly threw her out of the house.
"I had been brought here from Bhopal. They promised to pay me Rs 3,000 per month and that they'd send me to school. But my employer has given me Rs 300 only twice in the last four months, and have never ever bothered to send me to school," the girl said.
After she was thrown out of the house, the girl was spotted by an auto driver who took her to a social worker. The social workers took her to Powai Police Station that registered the cases of assault and employing a minor under the Child Labour Act against the Minochas.
"The family is on the run. We have registered a case and have launched a search for the family. As of now, only the woman has been named as an accused," said Ashok Jadhav, senior inspector of Powai police station.